InvestorGreg upholds the most rigorous standards for testing of brokers. We may receive compensation for advertising or for links that feature inside our reviews. Learn more about our
methodology and review process
.
Updated February 11th, 2020
Introduction
TradeStation is a broker that is based in the United States and has been operating since 1982. The Securities and Exchange Commission (SEC) and the Financial Industry Regulatory Authority (FINRA) are both tasked with the oversight of the TradeStation offering. There is also protection of client accounts of up to $500,000.
The broker has a long track record of success, with its parent company, the Monex Group having a Tokyo Stock Exchange listing.
TradeStation is a broker that places an emphasis on top-quality market data and efficiently executing trades. It also focuses a lot on the customer experience right throughout the offering. You also have options to automate your trading or to engage in the stock lending program.
This TradeStation review looks at all of the various aspects of this offering. It will highlight the strengths and weaknesses, allowing you to make an informed decision as to whether or not you should use the TradeStation brokerage.
Pros
Low fees

For trading most types of the available products on the TradeStation platform, you will have decent trading fees in comparison to similar offerings.

Wide variety of trading platforms

When conducting your trades, you can choose from a nice selection of different platforms depending on your specific needs. This includes mobile, desktop and browser options.

Well-regulated

The TradeStation offering is under the oversight of the SEC and FINRA, two very strong regulatory bodies. Client funds at TradeStation are also protected through SIPC, even for non-US residents.
Cons
Significant non-trading fees

There are significant inactivity fees on TradeStation accounts, as well as a fee in place for making withdrawals.

Customer support somewhat lacking

While the phone support is good, the live chat function can be hit or miss, the emails can take a couple of days to get a reply and the support is not on a 24/7 basis.
Innovation is written in our code. At TradeStation we believe in empowering traders to claim their financial edge.
Commissions & Fees
The fee structure at TradeStation will vary depending on if you sign up for a TS Select account or for a TS Go account. Neither of these accounts types at TradeStation will charge any commission when you are trading stocks, ETFs, stock options, futures, or futures options.
There is a charge of $0.60 per contract for the stock options and $1.50 per future contracts per side for TS Select account holders. For TS Go account holders, stock options cost $0.50 per contract, $0.85 per contract for futures per side and $1.50 per contract per side for futures options. These fees are good by industry standards and it is good having the choice of account types with varying fee structures.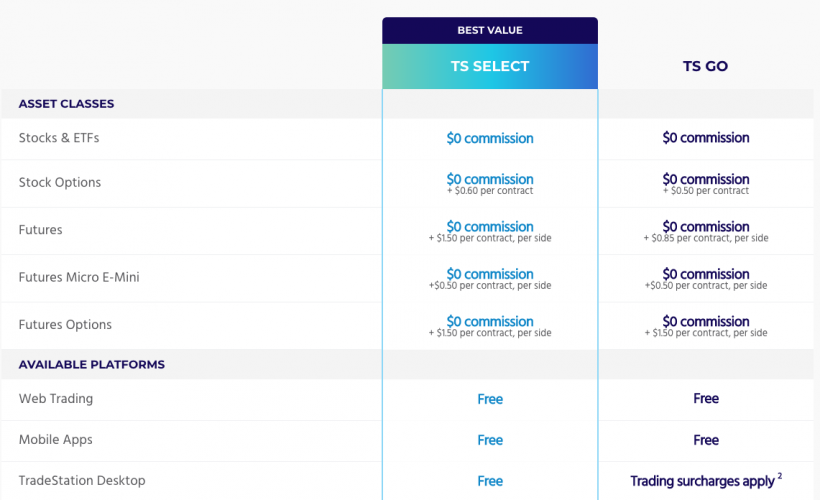 You will face a charge of $14.95 for every mutual fund transaction that you make. There is an inactivity fee in place at TradeStation if your account balance is less than $2,000 and you do not make at least five trades during the year. This inactivity fee is $50. You also need to consider the fee associated with making withdrawals from your TradeStation account.
Commissions & Fees
Stock
ETFs
Options
Mutual Funds
Bonds
Futures
TradeStation
$0.00
$0.00
$0.60 per contract
$14.95 per trade
$14.95 per trade
$1.50 per contract
Robinhood
Commission-free
Commission-free
Commission-free
Interactive Brokers
$0.005
$0
$0 + $0.70 per contract
$14.95
0.1% of face value
$0.85 per contract
Webull
Commission Free
Commission Free
SogoTrade
$2.88
$2.88
$2.88 + 50c
$25
$20
$2.88
Platform & Tools
There are a few different proprietary trading platforms at TradeStation that you can use. The Desktop 10 trading platform is downloadable and has many advanced tools that can help you enhance your trading strategies, as well as automate them. It also has wide-ranging analytical and research features. Trade execution is seamless and reliable, with the platform being easy on the eye and easy to navigate.
There is also a web browser-based trading platform that can be used without having to download any software. This works in hand with the apps for Apple and Android users. You can quickly and easily place trades no matter where you may be.
Platform & Tools
Desktop Platform (Windows)
Desktop Platform (MacOS)
Web Platform
MT4
MT5
Research & Analysis
Social trading
Education
Demo account
Mobile App
The mobile offering at TradeStation is very strong. The design is of a very high quality and it is intuitive to use. All of the vital functions you need for mobile trading have been integrated and you can easily manage your orders or set price alerts as you please. One of the downsides is that the search function can be a bit slow at times.
You can download this mobile app for both iOS and Android devices. In terms of its features, there is a strong crossover from the desktop offering. For extra security, you are able to enact two-step verification, as well as implementing biometrics security features.
Account Types
While TradeStation is based in the United States, it does cater to clients from certain other nations. The choices will be a bit limited if you are outside of the United States in terms of the depth and breadth of the offering. For cash accounts, you will need to deposit at least $500 when starting off. There are many different account types to choose from. You can choose a TradeStation account depending on what instruments you will be trading.
There is an equities account, a futures account and a futures options account. There are also individual, joint, IRA, entity and custodial accounts. Finally, for leverage accounts, there is a cash account and a margin account. After completing the application, you will get approval for your new account usually within two business days. You will need to provide photo ID and proof of address to full sign up.
Deposits & Withdrawals
When you are adding funds to your TradeStation account, there is no deposit fee that you need to worry about. You also have a decent selection of various base currencies. The choices when adding funds and withdrawing funds is quite limited with your TradeStation account.
You can only conduct transactions via check, wire transfer or an automated account transfer. Usually, the bank transfer takes about 24 hours to process if it is a domestic US transfer. It can take a lot longer if you are making a wire transfer from outside of the US.
There is a withdrawal fee in place of $35 for clients that are not in the US and $25 for those clients in the US. The withdrawal process is slower than adding funds, with this taking oftentimes 3-5 business days for the funds to process.
Deposits & Withdrawals
Minimum deposit
Withdrawal Time
Withdrawal Fee
TradeStation
$500
3-5 business days
$35 for US domestic withdrawals
Robinhood
None
5 days trading holding period for uninvested funds
Free
Interactive Brokers
$0
3-5 days
$0
Webull
Zero
2 business days
$45 (International Wire)
Tastyworks
$0
3 business days
$25-45
SogoTrade
$0
3 business days
$25 for US wire transfer
Customer Support
If you have an issue or a question you would like asked about the TradeStation offering, you can initially check out the FAQ section. Otherwise, you can contact the customer support team through email, telephone or live chat.
These options are only available in the English language. You will get quick and quality answers when ringing the team by phone. The response time for the email inbox is a bit slow and there is no 24/7 support, which is another downside.
Security & Fairness
TradeStation has been around the block for a number of decades and throughout this time, it has managed to build up a strong reputation for fairness. It is under the watchful eyes of FINRA and the SEC, two of the best in the regulatory space globally. Clients will also have their accounts protected under SIPC.
This sees total client assets of $500,000 being protected, with a max protection in place of $250,000 for cash. This protection also applies to clients that are located outside of the US. Do note that certain types of investments will not be covered as part of SIPC. There is also no negative balance protection in place.
There are a number of various account security features you can integrate into your TradeStation account. This includes two-factor authentication and biometric protection. All private data is kept encrypted and away from prying eyes.
You can check out the dedicated security center on the TradeStation website for more information as to how you can integrate these features into your own account. This will give you peace of mind that your investments are safe, as well as giving you tips on how to optimally protect yourself.
Compare TradeStation
Find out how TradeStation stacks up against other brokers