InvestorGreg upholds the most rigorous standards for testing of brokers. We may receive compensation for advertising or for links that feature inside our reviews. Learn more about our
methodology and review process
.
Updated January 29th, 2020
Introduction
Tastyworks is a broker that was set up in 2017 in the United States. It was built by a team that has a lot of experience in the brokerage industry, so they tried to implement all that they have learned to date into this offering.
Tastyworks is regulated by FINRA and everything from stock trading to futures and options is catered for. The platform is completely proprietary so it is well-suited to the goals of the tastyworks management team. This makes for a very stable experience, with the design being optimized to allow you to access all the features and tools you could ever need in the same place.
There is a great variety of different research and analysis tools for you to use, but this may be a bit off-putting to more passive or beginner investors. Overall, this platform is best suited to more experienced traders who take a hands-on approach to their investing.
Pros
Quality proprietary platform

The platform was created with specific goals in mind to enhance the experience of the stocks, futures and options traders as much as possible.

Wide range of analysis and research tools

There is an abundance of tools for research and analysis that traders can utilize to help influence their trading decisions.

Low fee structure

The options trading fees are ultra-low, with the stock and futures trading fees also being better than the market average.

Good customer support team

The customer support team can be contacted via phone, email or live chat and they are very knowledgeable about the platform.
Cons
A bit complex for beginners

Beginner investors may be best served using a different platform, as all of the tools available on the platform can be overwhelming.

High withdrawal fee

There is a $25 withdrawal fee for US citizens and a $45 withdrawal fee in place for non-US residents.
No squawk, all action! Our revolutionary low rates make for easier trading decisions.
Commissions & Fees
As a whole, the fees at tastyworks are minimized as much as possible. The trading fees for options are very low and the stocks trading fees are also decently low. There is a $1 charge per options contract and a $5 fee for making a stock trade. There are no fees for closing one of these positions. For futures trades, there is a $1.25 charge when opening and closing the position.

If you are looking to get leverage when trading on tastyworks, the rate is higher than most competitors at 8%. While there is no inactivity fee at tastyworks, there is a disappointing withdrawal fee. This is set at $25 for those in the US and $45 for those outside of the US.
Commissions & Fees
Stock
Options
Futures
Robinhood
Commission-free
Commission-free
TradeStation
$0.00
$0.60 per contract
$1.50 per contract
SogoTrade
$2.88
$2.88 + 50c
$2.88
Plus500
From 0.45%
From 2 pips
From 0.03%
Platform & Tools
This is a trading offering that uses proprietary software to ensure that traders are getting the best experience as possible, integrating the expert team's many years of experience in the brokerage industry.
You have access to stocks, ETFs, options and futures, mainly catering for markets based in the US. While a lot of competitors have a lot more products on offer, tastyworks sticks to what it knows and delivers this well.
You can utilize the likes of recommendations, fundamental data, charting and the rolling news feed to make trading decisions. The main target for this platform is options traders. If you are only looking at trading stocks, then this platform may be a bit too complex than is required.
With the myriad of analysis tools and the extremely low trading fees for options, it is the dream platform for many experienced traders.
The proprietary platform ticks a lot of boxes. The order routing system is state of the art and allows for accuracy and speed of execution. There are many different tools for futures and options traders in particular, as over 90% of the trades made on the platform are in the form of derivatives. All of your open positions will be clearly mapped out on charts in real-time, showcasing how potential changes may affect your position.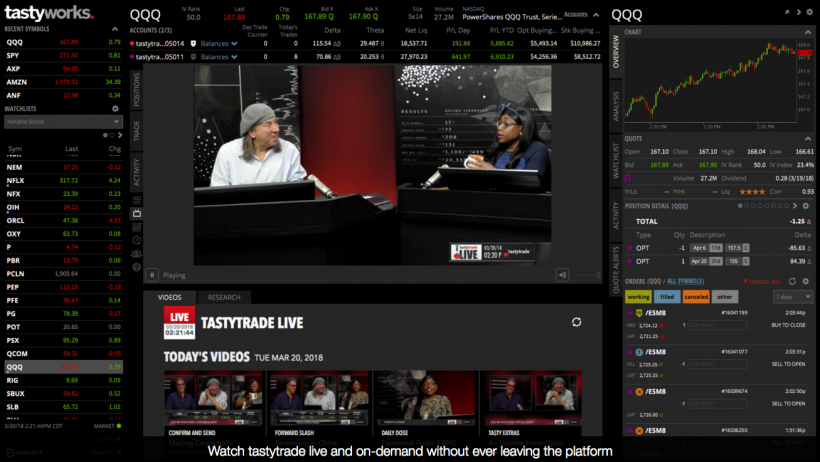 If you wish, the desktop trading platform can be downloaded onto your desktop, rather than using it through your web browser. If speed is vital for you, the downloadable platform will give you more of an advantage than the web browser alternative. All of the various displays can be customized depending on your specific needs.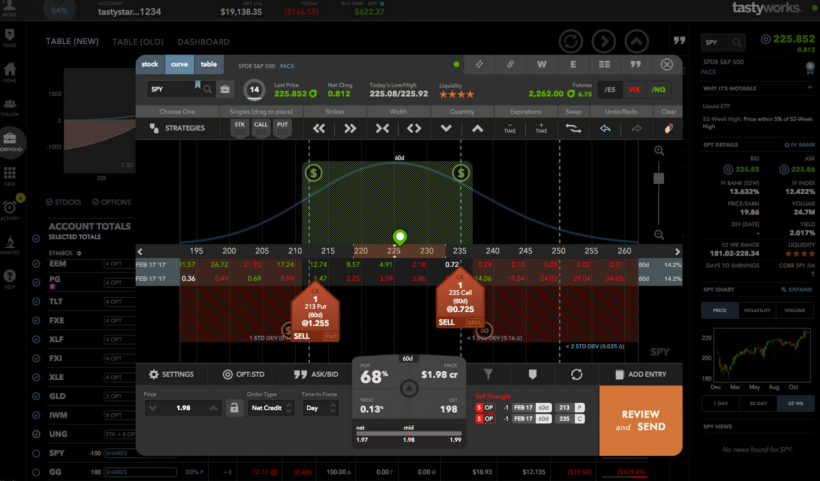 One of the main features that is a focus at tastyworks is the probability of making a profit. This is a key tool aimed at helping you decide on what trades you should make.
Platform & Tools
Desktop Platform (Windows)
Desktop Platform (MacOS)
Web Platform
MT4
MT5
Research & Analysis
Social trading
Education
Demo account
Mobile App
The mobile app for tastyworks pays a lot of resemblance to the desktop offering. It is designed in a way that incorporates a lot of different features. While this is fine with the desktop version, it can feel a bit cramped and overwhelming when making trades through your mobile device.
Most of the features of the desktop platform do transfer over to mobile which is a plus, with placing orders being a breeze. One of the downsides of the mobile offering isn't being able to set or receive any form of price alerts. Thankfully, this app is optimized for both Android and iOS devices and can be found at the respective app stores.
Deposits & Withdrawals
The banking methods on offer are somewhat limited at tastyworks. The only base currency that can be used is US dollars, which means that exchange fees may be an issue for those using different base currencies to add funds. There is also the hefty withdrawal fee of $25 for US citizens and $45 for non-US citizens.
The only method of adding and withdrawing funds for non-US residents is a bank transfer. For US citizens, the methods are also limited, only having the option of an ACH transfer of using a check. Generally, the processing times for transactions will be 3-5 business days.
On the good side, there is no fee for making a deposit and the entire transaction process is simple and straightforward.
Deposits & Withdrawals
Minimum deposit
Withdrawal Time
Withdrawal Fee
Tastyworks
$0
3 business days
$25-45
Robinhood
None
5 days trading holding period for uninvested funds
Free
Firstrade
$0
2-3 business days
$30 domestic US, $50 international
TradeStation
$500
3-5 business days
$35 for US domestic withdrawals
SogoTrade
$0
3 business days
$25 for US wire transfer
Plus500
£100
1-2 working days
£0
Customer Support
The customer support offering at tastyworks is a good one. You can get in touch via telephone, email or live chat. The team is very knowledgeable and will quickly resolve any issues you may be having. The only downside is that the 24 hours customer support is only available from Monday to Friday.
Security & Fairness
Tastyworks is a member of FINRA, NFA and SIPC. Its future accounts are not protected under SIPC, with all cash balances and positions in investor's future accounts being segregated through the Apex Clearing Corporation.
In terms of the security and reliability of the platform, there are defensive system configurations, sentinels, real-time monitoring and security devices all deployed to keep access and privacy of your account and your data secure at all times.
High standards of encryption protocols are utilized and tastyworks encourages all users to enact two-factor authentication onto their accounts.
Compare Tastyworks
Find out how Tastyworks stacks up against other brokers