InvestorGreg upholds the most rigorous standards for testing of brokers. We may receive compensation for advertising or for links that feature inside our reviews. Learn more about our
methodology and review process
.
Updated January 29th, 2020
Introduction
Robinhood is a new, innovative online investing platform that was established in 2013 with $539 million of venture capital. The primary aim of this investing platform was to democratize access to the financial markets by letting investors trade in various financial instruments such as cryptocurrencies, ETFs, stocks and options commission free. The main target market of this investing platform is geared towards young individual investors that want more control over their trading activities with minimal cost. The Robinhood platform is accessible through its website and mobile trading app. There is no telephone support and only basic level services are provided and sometimes at an extra cost. Despite the no frills offering, this has not slowed down the growth of this investing platform. Today, the platform boasts of having more than 6 million registered accounts.
Pros
Low Barriers to Entry

The investing platform does not charge any commission for trades made

No Withdrawal Fee

There is no fee imposed by Robinhood when making a withdrawal

Does Not Charge Inactivity Fee

Robinhood does not charge any inactivity fee
Cons
No Live Chat or Telephone Support

Customer support is only provided through email

No Demo Account

Robinhood does not provide any kind of demo account facility

Limited Selection of Market Coverage

Mutual Funds and bonds are not available for trading
Historically, "Free" usually meant that the fees are tacked on somewhere unnoticeable until they turned up as a surprised item in the billing statement. But Robinhood is a refreshing change as the broker's service is truly commission free.
Commissions & Fees
In the case of Robinhood, the service provided by this broker is truly commission free. Investors trading in stocks, ETFs, cryptocurrencies and options pay nothing for the trades executed. In short for every dollar saved, this represents an added dollar to your investment returns.
Commissions & Fees
Stock
ETFs
Options
Cryptocurrency
Robinhood
Commission-free
Commission-free
Commission-free
Commission-free
TD Ameritrade
$6.95
Commission-free
$6.95 + $0.75
Fidelity
$4.95
No Transaction Fee
$4.95 + $0.65
Vanguard
$7 per trade (first 25)
$7 per trade (first 25)
$7+$1 per contract (first 25)
Platform & Tools
Robinhood's trading platform is web-based and cleanly designed and user friendly. What is surprising about the web-based platform was the fact that it was introduced after the mobile version and not the other way around. Logging in requires you to log in using your email and password. To further secure the login process, you can also set up the two-step authentication process. While the platform is not customizable, it is still possesses a very understanding trading environment and supports a wide variety of order types. The alert and notifications feature is also another strong point of the Robinhood's trading platform. You can set it up to notify you of events such as:
Corporate Actions
Dividends Payments
Earnings Announcements
Money Transfers
Orders
Price Movements
Platform & Tools
Desktop Platform (Windows)
Desktop Platform (MacOS)
Web Platform
MT4
MT5
Research & Analysis
Social trading
Education
Demo account
Mobile App
The Robinhood mobile trading platform is available also as an Android app or an iOS app. It has all the features of the web based platform but lack the stock screener. Nevertheless, Robinhood has envisaged that its main target market will be clients who are of the younger generation that prefer to trade on the go with the smartphones.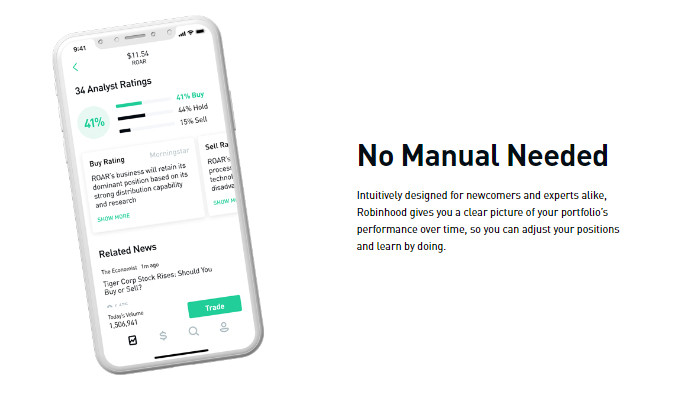 Account Types
For account types, there are 3 types available at Robinhood, the Cash account, the Standard/Instant account and the Robinhood Gold account. When you sign up for a new account, the default account setup will be the Robinhood Standard/Instant account. From there, you can either downgrade to a cash account or upgrade to a Robinhood Gold account. The key difference between the accounts is the day trading limitation. For the Cash account, there is no limit on how many times you buy and sell a stock. The Standard and Gold account however are limited to 3 day trades per week. If this number is exceeded, the account will be block for 90 days unless the minimum balance in the account is $25,000. Another major difference between the accounts is the leverage. For Cash and Standard accounts, leverage trading is not available. For Gold accounts, investors can trade with 2:1 leverage ratio.
Deposits & Withdrawals
At Robinhood, the only payment method support by the broker is through bank transfer. The broker currently does not support credit card deposits or withdrawal or eWallets payment methods. For withdrawals, the daily limit is $50,000 and the time required to complete the withdrawal process is 2 to 3 business days. Apart from cash deposits or withdrawals, Robinhood also supports stock transfer. Outgoing transfers are charged $75 per transaction while incoming transfer is free.
Deposits & Withdrawals
Minimum deposit
Withdrawal Time
Withdrawal Fee
Robinhood
None
5 days trading holding period for uninvested funds
Free
TD Ameritrade
None
One Business Day
Free
Fidelity
$0
Immediate (Bank Wire)
$10 (Bank Wire)
Vanguard
$0
3 Business days
$10
Tastyworks
$0
3 business days
$25-45
Firstrade
$0
2-3 business days
$30 domestic US, $50 international
Customer Support
The customer support section of Robinhood is the broker's weakest link. While most brokerage customers will expect support to be done through the phone, at Robinhood, the support is exclusively through email. Robinhood does not have any support for live chat or the telephone. Nevertheless, the broker makes up for this deficiency by providing its clients with a well organized and informative online help center.
Security & Fairness
In terms of safety and security, Robinhood is a registered broker with the SEC and a member of FINRA and SIPC. In other words, your funds and investments are protected by up to $500,000 should ever Robinhood becomes insolvent. Nevertheless, it should be noted that your cryptocurrencies investments are not covered under SIPC.
For web security, Robinhood has adopted several industry best practices and security measures to help ensure that the integrity of their clients' account as well as the safety of their personal information. Some of these measures include having the client's account password hashed with the BCrypt hashing algorithm and social security numbers encrypted before being stored on the servers. In addition, communications between the servers and the clients' computers are done through Transport Layer Security (TLS) protocol. On the client's side, access to the mobile app can be secured with two factor authentication and TouchID.
Since it was first founded in 2013, Robinhood has already executed more than $150 billion worth of trading transactions. The number of users also has increased exponentially to more than 6 million users to date, a number which surpasses those of the popular E*Trade platform. With the recent announcement by the Robinhood's plans to offer checking and savings account, clients of Robinhood can certainly look forward to more goodies from this innovative investment platform.
Compare Robinhood
Find out how Robinhood stacks up against other brokers