InvestorGreg upholds the most rigorous standards for testing of brokers. We may receive compensation for advertising or for links that feature inside our reviews. Learn more about our
methodology and review process
.
Updated January 29th, 2020
Introduction
Although famous for its mutual funds offering, Fidelity is full service broker that was established in 1946. The broker currently services more that 19 million brokering accounts and has more than $2.5 trillion dollars under asset management. Apart from brokering services and asset management, Fidelity also provide other financial services such as mutual funds management, investment advice, wealth management, retirement planning and life insurance.
On the brokerage side of the business, Fidelity offers investors competitive commissions for online traders which they can take advantage off. The broker merely charges a small of $4.95 for most trades. Clients at Fidelity brokerage division also have access to a wide range of trading tools for research and charting. The Active Trader Pro software provided by Fidelity is one of the most sophisticated trading software in the online trading industry.
Pros
Excellent Research

Fidelity provide in depth research on a large number of financial instruments for its traders.

Comprehensive Customer Support

24/7 live support through various communication channels

Extensive Product Offerings

Coverage of financial markets. These include products such as mutual funds, ETFs, stocks, Index funds and annuities.
Cons
Limited access to Active Trader Pro

The Active Trader Pro trading platform is only available to clients that are able to achieve a certain trading volume.

No Demo Account Provided

Fidelity does not have any provide for any demo account trading facilities
Comprehensive research tools, extensive market coverage and wide coverage of markets. All these prove that Fidelity is able to provide value for money to its clients.
Commissions & Fees
For trading fees, Fidelity charges a flat commission on the trades that its clients has executed. The base commission rate is $4.95 for stocks and $4.95 plus $0.65 per contract on option contracts. While the fee structure is basically the same as what Fidelity's closest competitors are charging, Fidelity's rate is still more competitive than its closest rival.
For mutual funds, Fidelity offers more than 4000 funds which are considered as No Transaction Fee (NTF) funds. For funds which transaction fees are imposed, the cost is $49.95 to purchase. Like other players in the industry, Fidelity does not charge any fee for mutual funds redemption. Fidelity also offers a sizeable number of ETFs which are commission free.
Commissions & Fees
Stock
ETFs
Options
Mutual Funds
Bonds
Fidelity
$4.95
No Transaction Fee
$4.95 + $0.65
No Transaction Fee
$14
TD Ameritrade
$6.95
Commission-free
$6.95 + $0.75
Commission-free
Commission-free
Firstrade
$0
$0
$0
$0
$40
Zacks Trade
$0.01 per share with $1 minimum or 1% of trade value if <$1 per share
$0.01 per share with $1 minimum or 1% of trade value if <$1 per share
$1 for First Contract + $0.75 per additional
$27.50
Government Bonds: 0.025% Face Value + $3 per bond Corporate Bonds: 0.1% Face Value + $3 per bond
Platform & Tools
The main trading platform which Fidelity has provided its clients is the Active Trader Pro desktop platform. The trading platform is packed with features and has a clean and attractive design. The Daily Dashboard highly visible once you log on to the trading platform. The Daily Dashboard provides an overview of the user's portfolio as well as the current conditions in the financial markets. Market indices summaries are located at the top of the dashboard while a heatmap depicting the portfolio's gainers and losers illustrated at the lower section of the dashboard together with other financial news. Under the portfolio event section, you will be able to see upcoming events concerning earnings.
The other key features of the Active Trader Pro platform include real time market updates, advanced tools such as Real-time Analytics, Option Trade Builder, strategy Ideas and Trade Armor® to assist investors in making better informed choices. However it should be noted that the Active Trader Pro platform is not automatically available to all of Fidelity's customers. Access is only provided to those who have made a minimum of 36 qualifying trades within a 12 month period. Alternatively, you can also phone in to Fidelity to request access to the platform.
Platform & Tools
Desktop Platform (Windows)
Desktop Platform (MacOS)
Web Platform
MT4
MT5
Research & Analysis
Social trading
Education
Demo account
Mobile App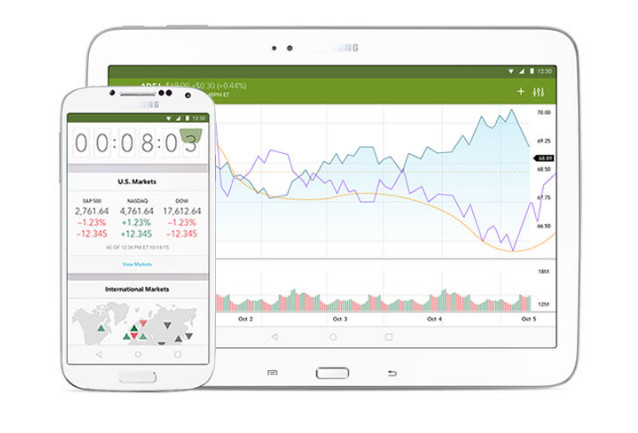 For mobile trading, Fidelity is able to cater for iOS powered and Android powered devices. The mobile apps support the following features such as:
A personalized Feed
Enhanced connectivity with customer support
Market research,
Money management
News, and
Notebook
Tax forms
Video
Watch list
Amazon Kindle Fire is also supported by Fidelity. Regardless of the type of mobile devices used, Fidelity's mobile apps are able to fulfill a fulfilling user experience. Fidelity is also able to provide Alexa functionality.
Account Types
Opening an account with Fidelity is a simple process taking only a few minutes. The broker offers a few types of accounts that cater to meet different investment objectives. They are categorized according Retirement Savings, Investing & Trading, Saving for Education and Managed accounts.
Retirement Savings
Rollover IRA
Roth IRA
Traditional IRA
Investing & Trading
Brokerage Account – The Fidelity Account®
Brokerage and Cash Management
Saving for Education
Managed Accounts
Fidelity Go®
Portfolio Advisory Services Accounts
Deposits & Withdrawals
For withdrawals and deposits of funds, Fidelity support several different types of funds transfer methods. It should be noted that with the exception retirement accounts, Fidelity permit you to withdraw funds from non retirement accounts. The supported methods for withdrawal of funds include the following:
ATM Withdrawal
Check
Electronic Funds Transfer
Transfer Accounts from other Institutions
Transfer between Two Fidelity Accounts
Transfer to an Annuity
Wire Transfer
It should be noted withdrawal fees may apply when the withdrawal is initiated through the ATM or by bank wire transfer.
Deposits & Withdrawals
Minimum deposit
Withdrawal Time
Withdrawal Fee
Fidelity
$0
Immediate (Bank Wire)
$10 (Bank Wire)
TD Ameritrade
None
One Business Day
Free
Firstrade
$0
2-3 business days
$30 domestic US, $50 international
Zacks Trade
$2,500
4-7 working days
1 withdrawal free monthly
Public
$0
3-5 business days
-
Trading 212
£1
0-5 days
0
Customer Support
Customer support at Fidelity is available through various channels. As a client of Fidelity, you can access the Virtual assistant to get the answers that you need for your problems. In addition, there is also a comprehensive FAQ section which you can consult to look for solutions to frequently asked questions. If all else fails, you can also call directly Fidelity on the toll free numbers provided by the broker.

Security & Fairness
Security has always been a major priority for online financial platforms. At the Fidelity, the broker has endeavor to provide its clients with the highest level of security possible by using advanced security encryption technology and two factor verification. The broker has also other security features such as the Fidelity MyVoice voice-recognition feature and timed automatic log out. Finally, accounts are actively monitored by Fidelity to prevent unauthorized access.
As a member of Securities Investor Protection Corporation (SIPC), Fidelity is able to provide coverage of investors' funds by up to a maximum of $500,000, $250,000 for cash held in an account and $250,000 for securities. Additional protection is covered for some cash account by FDIC.

Fidelity has continuously strives to provide its clients with the highest level of customer experience. The broker is noted for its transparency and the quality of its order execution. In fact, the broker been nominated several times by leading industry reviewers for being the best online broker since 2016.
Compare Fidelity
Find out how Fidelity stacks up against other brokers