InvestorGreg upholds the most rigorous standards for testing of brokers. We may receive compensation for advertising or for links that feature inside our reviews. Learn more about our
methodology and review process
.
Updated January 29th, 2020
Introduction
Founded in 1975 by Jack Bogle, the Vanguard brand is well known among the financial investing community for low cost investments, especially for ETFs and index funds. Vanguard's cost of investing is much lower than what one would normally find in the funds investing industry. The broker's average ratio for transactional expenses is just 0.11% as compared to the typical industry funds' ratio of 0.62%. In the world of financial investing especially when you are investing for the long term, cost is everything. Trading costs can easily eat into your gains. For example if you invest $200,000 and make just a 5% gain annually, a difference of 0.5% will translate into an additional $1000 gain per year.
Previously, Vanguard financial investment products were only available through an intermediary like a investment broker or a funds management company. However recently, Vanguard introduced its Vanguard Investor platform which allow investors to invest directly in its range of products without having to go through an investment broker or an investment fund platform. Today, Vanguard is a global brand that has more than 20 million clients all over the world. An asset management company, Vanguard is owned investors rather than by shareholders of the company. In short, this meant that Vanguard is supposedly to operate more towards the interests of investors as opposed to the shareholders.
Pros
No commission

Commission free trading on more than 1800 exchange traded funds (ETFs).

Low expense ratio

Offers one of the lowest expense ratio for long term investments in the industry.

A huge selection of mutual funds

Over 3000 no transaction fee mutual fund.

Free research materials provided

a wide selection of analysis and research materials are provided free.
Cons
High funds minimum for beginner traders

Not a place to practice trading unless you can risk losing high amount of capital

No platform

No trading platform and trading tools provided

Not beginner friendly Brokerage

Not the right place for beginners, although great for more experienced.
For investors looking to invest for the long term, Vanguard offers the lowest expense ratio for thousands of index funds and ETFs.
Commissions & Fees
While Vanguard do offer a wide range of products that does not have any transaction costs, stock trades and options trades still incur a cost. For stock trading under $50,000, Vanguard charges a commission of $7 per trade for the first 25 trade each year. For trades exceeding the 25 trades threshold, traders are charged $20 per trade. However once the trading volume reaches $500,000, the trading cost drops to $2 per trade. For trading volume exceeding $1,000,000,the first 25 trades are free and subsequent trades are charged at $2 per trade.
For options trades, the trading cost for trading volumes below $500,000 is $7+$1 per contract. For trading volumes that exceeded $500,000, the trading cost drops to $2+$1 per contract. For trading volumes exceeding $1,000,000, the initial 25 trades are free whereas subsequent trades will cost $2+$1 per contract.
It can be noted that Vanguard commission structure is geared towards high net worth investors rather than the average retail traders. The fee structure is also not conducive for the active traders. In fact the commission charges discourage frequent trades on the part of the investor.
Commissions & Fees
Stock
ETFs
Options
Mutual Funds
Vanguard
$7 per trade (first 25)
$7 per trade (first 25)
$7+$1 per contract (first 25)
$7 per trade (first 25)
Merrill Edge
$6.95
$6.95
$6.95 + $0.75
No Transaction Fee
Ally Invest
$4.95
$4.95
$4.95 + $0.65 per contract
$9.95
E*TRADE
$6.95
$19.99
$6.95 + $0.75 per contract
$49.99
Charles Schwab
$4.95
$29.85
$4.95 + $0.65 per contract
$49.95
Swissquote
From £15
From £15
£1 per contract (Minimum £5)
From £9
Platform & Tools
Unlike other brokerage firms, Vanguard does not provide any kind of trading platform per se for its clients. Trades are instead routed to a third party for execution. The platform provided by Vanguard is basically a portfolio management tool rather than a straight forward trading platform. However you can still carry out basic transaction with it. Nevertheless, the tools that are available for managing one's trading account are more robust than the typical fund investment broker. In fact, the tools available here are geared towards financial planning especially the for portfolio analysis.
Platform & Tools
Desktop Platform (Windows)
Desktop Platform (MacOS)
Web Platform
MT4
MT5
Research & Analysis
Social trading
Education
Demo account
Mobile App
Vanguard has also provided its clients with mobile apps which they can download and install onto their iOS or android powered mobile devices. With the app, you can check your portfolio performance and account balances as well as view your account statements. You can also buy and sell ETFs and mutual funds with the app. Finally with the app, you can also stay more informed about current market trends as well as any development in the market.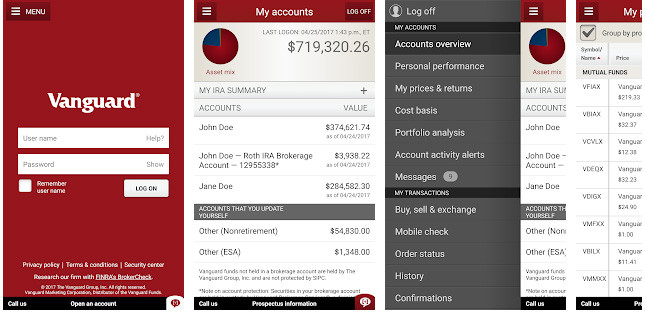 Account Types
The account types provided by Vanguard can be categorized into the following:
Roth & traditional IRAs
SEPs, SIMPLEs & i401(k)s
Variable annuities
Roth & Traditional IRAs
For individual retirement building and taxes reduction
SEPs, SIMPLEs & i401(k)s
For the self employed to simplify their retirement plans
Variable Annuities
For tax-deferred growth potential now.
Deposits & Withdrawals
Funds can be transferred to a Vanguard account through the following methods:
By making an electronic deposit. Before you can do this, you need to first link your bank account to Vanguard
You can also send money to your Vanguard account by direct deposit from one's employer.
It is also possible to top up your Vanguard account on a recurring basis by using your bank's online bill payment system
It is also possible to invest in a Vanguard fund by mailing a personal check to the broker.
For withdrawals of funds from a Vanguard account to one's bank account, this can be done by wire transfer or by electronic bank transfer (EBT). With EBT, it takes 2 to 3 business days for the funds to be posted to the bank account balance. Vanguard highly encourages its clients to use this method as it is quicker and does not incur any kind of fee. With wire transfers, Vanguard charges a $10 fee except for those who are Flagship and Flagship Select clients.
Deposits & Withdrawals
Minimum deposit
Withdrawal Time
Withdrawal Fee
Vanguard
$0
3 Business days
$10
Merrill Edge
None
Immediate (Bank Wire)
$0 (Visa Debit Card)
Ally Invest
$0
3-5 days
$0
Charles Schwab
$0
5 days
$0
Swissquote
£0
1-2 working days
Depends on account type
Customer Support
There are two main methods to get in touch with Vanguard customer support. You can either call them directly on the telephone to their toll free number or mail them directly through the U.S postal service.
Security & Fairness
As for the security of trading with Vanguard, you need not worry as this broker is considered a solid broker whose brand is recognized internationally. In fact, the broker today is serving over 20 million clients worldwide. With regards to fairness, we noted that Vanguard is not for the typical retail investor. The broker has structured its services to cater more for high net worth clients rather than the average Joe. In fact its fee structure benefits those with more to invest than what beginner investors can afford to come up with.
Compare Vanguard
Find out how Vanguard stacks up against other brokers