InvestorGreg upholds the most rigorous standards for testing of brokers. We may receive compensation for advertising or for links that feature inside our reviews. Learn more about our
methodology and review process
.
Updated January 29th, 2020
Introduction
Established in 2017, Webull is an upcoming online broker that has gathered the attention of many veteran traders. The broker offers commission free trading on more than 5000 different types of stocks and ETFs on its proprietary trading platform. What makes Webull different from other brokers that have established their presence on the internet is the fact that Webull offers a professional level trading platform for intermediate and experienced retail traders that was previously only available to top trier private investors Now, with the establishment of Webull, the average retail trader will be able to trade across a few thousand different types of financial instruments. Now, let's take a closer look at the services offered by Webull.
Pros
The broker offers commission free trading

Quite unusually pay no commissions for trading stocks and ETF's, pay a spread.

A huge selection of stocks to trade

The market coverage of Webull exceeds 5000 different types of stocks and ETFs.

Webull offers up to 1:4 leverage trading ratio

Multiply your exposure by 400%, therefore a $1000 trade carries the value of $4000.

The inhouse trading platform is both powerful and intuitive

The proprietary trading platform is an excellent way to get access to the markets.
Cons
The proprietary trading platform is not beginner friendly

With so many features it is a great platform for experienced traders but quite hard to understand for beginners.

The trading platform does not support options trading

You cannot trade options here.

The customer support service is limited to email and a FAQ

There is no phone number of live chat.
Well regulated, Webull's offering includes more than 5000 instruments on an intuitive trading platform.
Commissions & Fees
As mentioned earlier, Webull offers commission free trading on its trading platform. However the trades executed on Webull's trading platform are still subjected to both FINRA and SEC fees. For a trading volume of per $1,000,000, traders are subjected an SEC fee of $13. FINRA fees are based on a Trading Activity Fee (TAF) of $0.000119 per share. The minimum FINRA fee is $0.01 while the maximum fee imposed is $5.95.

Commissions & Fees
Stock
ETFs
Webull
Commission Free
Commission Free
Vanguard
$7 per trade (first 25)
$7 per trade (first 25)
DEGIRO
From 0.014% + £1.75
From £1.75 + 0.03%
Swissquote
From £15
From £15
Platform & Tools
The mainstay of Webull trading platform is a proprietary mobile-based app. The trading platform was specifically developed to cater to traders who are experienced, or at least have some level of online trading knowledge. As such, the trading platform supports a fairly advanced level of both fundamental and technical analysis. For fundamental analysis, the trader is able to access key information such as key statistics, market analysts reports, data on share earnings, information on dividend payouts, stock splits and live news feed.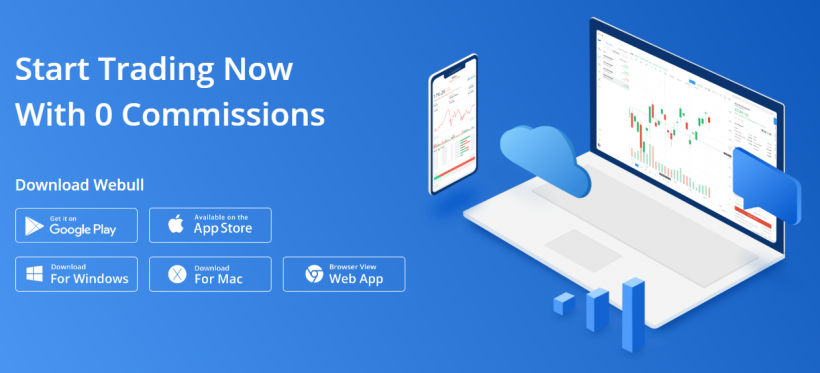 For technical analysis, the trader has the following tools at his disposal, such as historical data dating back 5 years, different types of chart display and support for different chart time frames. In addition, Webull's traders will also get to access different types of technical indicators such as Bollinger Bands, Moving Averages and MACD. Apart from all the above-mentioned tools, traders at Webull will also be able to track a wide range of international stocks in real time.
Platform & Tools
Desktop Platform (Windows)
Desktop Platform (MacOS)
Web Platform
MT4
MT5
Research & Analysis
Social trading
Education
Demo account
Mobile App
Webull differs from other mainstream internet brokers in the sense that it has built its core operation around a mobile trading app.
The mobile trading app is an extremely powerful trading platform despite its small file size. With it, traders of Webull can access markets in different parts of the world.
In addition, the mobile trading app comes integrated with several advanced trading features such as stock screeners, watch lists and alert and as well as a trading simulator. With the watch list feature, users of the Webull's platform can put together several watch lists as opposed to a single watch list on most other platforms.
Account Types
The broker offers several types of accounts that serve different investment objectives. The accounts can be categorised into individual, joint, Retirement (ROTH IRA, SEP, Traditional, Simple and Custodial), Education Savings, HSA and 529. However for the individual investor, his choice of trading account is limited to the basic cash type account or the margin-based account. It should be noted that in order to trade on margin, you will need to have at least $2000 inside your trading account.
Deposits & Withdrawals
Deposits into a cash or margin account at Webull can be done through electronic transfer (ACH) or by international wire transfer. The deposited balance will take between 4 to 5 business days to reach APEX (Webull) clearing firm before one can access the funds deposited. Nevertheless, Webull will grant a provisional credit based on the amount deposited. For amounts of $1000 and below, traders will be able to access the full amount deposited. For deposits in excess of $1000, only the first $1000 is available immediately. The balance of the amount in excess of $1000 will take between 4 to 5 days to be made available for investing. The cost of making a deposit by international wire is free for the initial deposit. Subsequent deposits will incur a fee of $14 unless the amount deposited is more than $25,000.
For withdrawals, you need to first link your trading account to an external bank account. After linking your account, you can view your account information. You can check your account value, cash balance and unrealized profit or loss. It should be noted that the cash balance in your account is not necessary the available balance for withdrawal. In the USA, for equity sales proceeds are processed based on T+2 schedule. This means that it takes 2 business days for the proceeds to be posted to the trading account. As for the cost of withdrawals, ACH withdrawals are free. However outgoing domestic wires cost $25 and international wires cost $45.
Deposits & Withdrawals
Minimum deposit
Withdrawal Time
Withdrawal Fee
Webull
Zero
2 business days
$45 (International Wire)
Vanguard
$0
3 Business days
$10
TradeStation
$500
3-5 business days
$35 for US domestic withdrawals
SogoTrade
$0
3 business days
$25 for US wire transfer
DEGIRO
0
1-2 business days
0
Swissquote
£0
1-2 working days
Depends on account type
Customer Support
As for customer support, the support service at Webull is only available by email and through FAQ.
Security & Fairness
Webull is a member of the Securities Investor Protection Corp (SIPC). Under the SIPC membership, traders at Webull are protected up to $500,000 with $250,000 being cash claims. In addition, Webull has an additional insurance policy to protect its clients up to a total amount $150 million. Under this insurance policy, a trader can file a claim up to a maximum amount of $37.5 million with $900,000 being cash claims. However the insurance protection coverage does not extend to market losses.
Compare Webull
Find out how Webull stacks up against other brokers