InvestorGreg upholds the most rigorous standards for testing of brokers. We may receive compensation for advertising or for links that feature inside our reviews. Learn more about our
methodology and review process
.
Introduction
DEGIRO is brokerage firm that has been on the scene since 2013, starting off its operations in the Netherlands. Since then, it has expanded its operations into 18 different countries across the European Union. In this relatively short space of time, it has managed to develop its offering into one of the biggest on the continent.
DEGIRO is focused on pairing financial knowledge with technology in order to create an experience for traders that is cost-effective and efficient. It is always looking at different ways to innovate and improve with its offering. The company is well-respected in the industry and it is under the regulation of the AFM in the Netherlands, as well as the Dutch Central Bank.
This DEGIRO review looks a variety of elements, showcasing what areas the broker performs best in and what areas can be improved upon.
Pros
Low-cost structure

DEGIRO has one of the most competitive pricing structures in place in the European sector.

Well-respected

DEGIRO has a great reputation in the European market and it is regulated by one of the region's leading bodies.

Fast and efficient

When executing trades, the process is extremely fast and efficient. This allows you to get the best prices possible.
Cons
Limited payment methods

There isn't a way for you to add funds to your DEGIRO account using a credit or debit card, which is not ideal for some.

No forex trading

There is currently no forex trading offering as part of the DEGIRO range of investment and trading options.
By combining technology and financial knowledge, DEGIRO creates high-quality and cost-effective financial services for everyone.
Commissions & Fees
DEGIRO is one of the lowest cost leading brokers in Europe today. It showcases the cost savings that traders can make when they use DEGIRO instead of some of the other major brokers in the sector. There is a well-laid out table comparing the different fees and commissions associated with making different trades.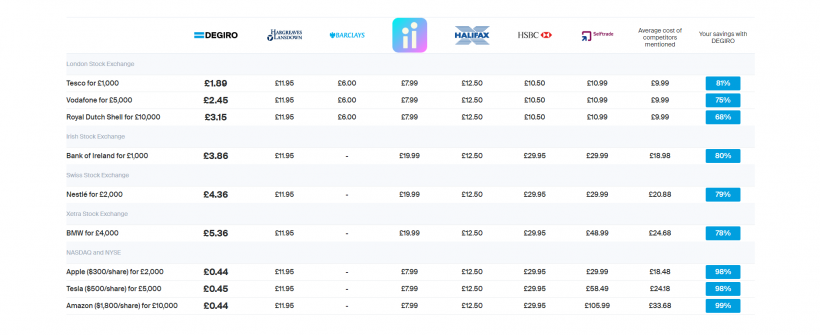 You will be hard-pressed to find lower fees and commissions in the space today. Many of the ETFs can even be traded without having to pay any fees. Funds, indices, bonds, options and futures fees are all decent. If you are looking to trade using margin through DEGIRO, the financing rates are also very competitive. For trading cryptocurrency, you have to use exchange-traded notes to do so.
In terms of non-trading fees, you do not have to deal with any account, inactivity or transactional fees with DEGIRO. However, there is an exchange connectivity fee in place that is not really seen with other brokers. This fee comes into effect if you are not trading in your home market. This will see you pay up to 0.25% of your total account value, up to a max of €2.50 each calendar year for each of the exchanges, not including the London Stock Exchange.
Commissions & Fees
Stock
ETFs
Options
Mutual Funds
Bonds
Futures
Cryptocurrency
DEGIRO
From 0.014% + £1.75
From £1.75 + 0.03%
From £0.38
From £6.57 + 0.10%
From £1.75 + 0.06%
From £0.38
From 0.058%
AvaTrade
Average 0.13%
Average 0.13%
Spreads Vary
0.03 Over Market
0.75% to 1.5% Over Market
IQ Option
From 0.16%
From 0.018%
From 0.035%
From 0.064%
eToro
0.09% spread per side
0.09% spread per side
From 1.5%
HighLow
None - fixed payouts
Platform & Tools
DEGIRO has its own proprietary trading platform for traders to use. This can be used directly through a web browser and it caters to most major European languages. It is very quick and easy to place trades through this offering. However, it is not overly detailed or advanced.
While it is user friendly, more advanced traders may want to access more detailed analysis and research options. There are also not really any customization options for you to try out. You have access to all of the usual order types and there are email notifications and alerts available. Unfortunately, there are no text alerts and no price alert functions.
Platform & Tools
Desktop Platform (Windows)
Desktop Platform (MacOS)
Web Platform
MT4
MT5
Research & Analysis
Social trading
Education
Demo account
Mobile App
The DEGIRO mobile offering is very well-designed and easy to use. You can quickly find the section you are looking for thanks to the minimalistic menu. There is a safe login process as you can enact two-factor authentication.
One of the drawbacks of the mobile app is that the search function is not very good. It can take a while to find what you are looking for when entering names and tickers. The process of placing trades is very easy. Both iOS and Android users are able to download the DEGIRO app from their respective app stores.
Account Types
The process of setting up an account with DEGIRO is pretty easy, but at some stages there is a waiting list to sign up for an account. You can open a variety of account types, namely a custody, basic, active, trader or day trader account.
Each of these account types will have their own features and the trading fees are exactly the same for each of the options. The type of account you choose should depend on what type of trader or investor you are, with the platform breaking down who will be better suited to which of the account types.
Deposits & Withdrawals
There are no fees associated with conducting deposits or withdrawals with DEGIRO. There are also nine different base currencies that you can choose from. Your main payment option will be a bank transfer. This will take 2-3 business days for your funds to deposit to your account. Withdrawals can take a bit longer when using this method.
The other option is Trustly. This will see your funds usually hit your account within a few hours. Unfortunately, there is no way for you to add funds via a credit or debit card at this moment in time on DEGIRO.
Deposits & Withdrawals
Minimum deposit
Withdrawal Time
Withdrawal Fee
DEGIRO
0
1-2 business days
0
AvaTrade
$100
1 - 2 business days
Free
IQ Option
$10
Within 1 business day
Free
AroTrade
$250
3 - 4 business days
$50 - $100
eToro
$200
Within 1 business day
$25
HighLow
$10
1 - 3 business days
2% fee on all withdrawals
Customer Support
If you have an issue or question that needs resolving concerning the DEGIRO offering, then there is a comprehensive FAQ section that will hold the majority of answers. If this does not resolve your issue, you can then directly get in touch with the support team. You can ring them by phone or use the live chat feature.
These lines are both open between Monday and Friday from 7 AM until 9 PM GMT. You can also email the support team round the clock, with the response times being pretty good, usually getting a response inside of 24 hours.
Security & Fairness
While DEGIRO is relatively new to the online broker space, it has built up quite a reputation over the years. Its offering is always extremely reliable and customers are well taken care of.
The platform is under the oversight of the AFM in the Netherlands, as well as the Dutch Central Bank This allows the broker to operate in the European Union. It also ensures that the platform is compliant with all of the relevant rules and regulations for financial services firms operating in the region.
All client funds are kept in segregated accounts. This means that DEGIRO won't be accessing these funds for operational purposes. If DEGIRO runs into financial trouble, creditors will not be able to touch these client funds. Client funds are also protected through the Dutch Investor Protection Scheme. This means that client accounts will be protected up to €20,000.
The platform also uses the best in encryption technology to keep the personal data of users safe and sound. You can also enact additional security measures on your account if needed.
Compare DEGIRO
Find out how DEGIRO stacks up against other brokers