InvestorGreg upholds the most rigorous standards for testing of brokers. We may receive compensation for advertising or for links that feature inside our reviews. Learn more about our
methodology and review process
.
Updated January 29th, 2020
Introduction
Betterment is one of the biggest and most well-known robo-advisors on the market right now, attractive for its low fees and automated investment strategy. It has had a huge impact on the investing landscape, primarily in the US market but also internationally. It is a leader in the field of robo-investments with over $16 billion in assets under management, and a wide range of account types are supported. This Betterment review will outline why this is such a popular investment platform.
Pros
Low Fees

0.25% fees for investors with an option to upgrade to 0.4%.

No Minimum

There is no minimum deposit to invest with Betterment.

Goal-Based Saving

Users can set personalized financial goals and Betterment will suggest allocations based on these goals.

Flexible Portfolio Tool

Investors with over $100,000 can change the percentage of funds allocated to a specific ETF.

Socially Responsible Investing

A number of funds are designed to be socially responsible for people interested in ethical investing.
Cons
No Direct Indexing

Investors can only buy the ETF fund, not the index that it is tracking.

Hard to Exit

Transferring funds out of Betterment can be tedious, requiring physically mailed paperwork.
Betterment is one of the best robo-advisors available, offering an affordable mix of high-quality robo-investment along with personalized financial advice
How Does Betterment Work?
Like most robo-advisors, Betterment allocates funds based on modern portfolio theory ("MPT"). Taking into account the risk tolerances of each investor, the funds will be placed into a number of exchange-traded funds ("ETFs"). These ETFs are representative of 12 asset classes. The goal is that the investment is fully diversified across asset classes while still witnessing a reasonable return on investment. The benefit of this approach is that investors can enjoy diversification and profit without paying heavy fees. In addition, the whole process is streamlined and easy to do, without having to talk to an advisor.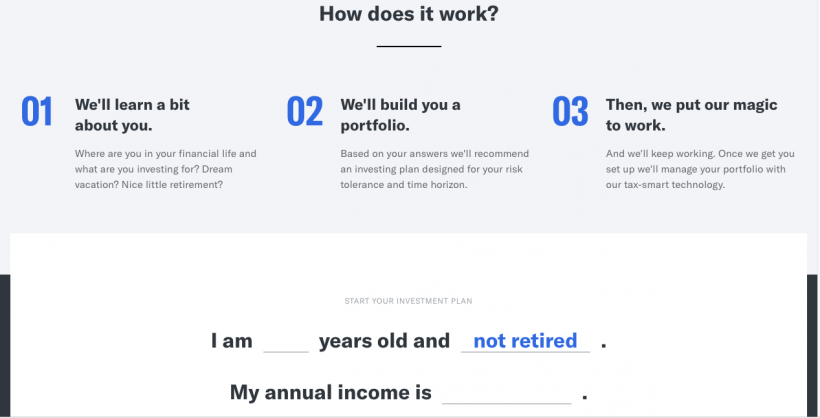 Commissions & Fees
The Betterment fees are among the lowest on the market, at just 0.25%. This is ultra-low, even for robo-advisors. Investors can also choose the Betterment Premium plan, which will put them in touch with personal advisors for customized advice. The fees for the personal advisory services are still very cheap, at just 0.4%. This is a fraction of what most investment services charge, with fees often ranging between 1% - 2%.
Like Wealthfront, the primary competitor for Betterment, there are no commission fees or hidden charges. This is what makes it so appealing. However, there are some ETF expense costs, at around 0.13%.
There are promotions available right now so that the first 12 months of management are completely free, up to $15,000. Deposits between $15,000 - $99,000 can get one month free and amounts from $99,000 - $250,000 can get 6 months free. Deposits above $250,000 qualify for a year of free management.
Platform & Tools
Betterment offers more than just robo-investment, and also offers human advisors for an additional fee. For a $0 account minimum and low fees, they offer quite a range of services with automatic rebalancing and tax harvesting strategies that are robust, as well as socially responsible portfolio investing. The tax impact preview tool will alert users as to how making changes in portfolio allocations can affect tax benefits. The charity tool makes it easy to donate funds to worthy causes.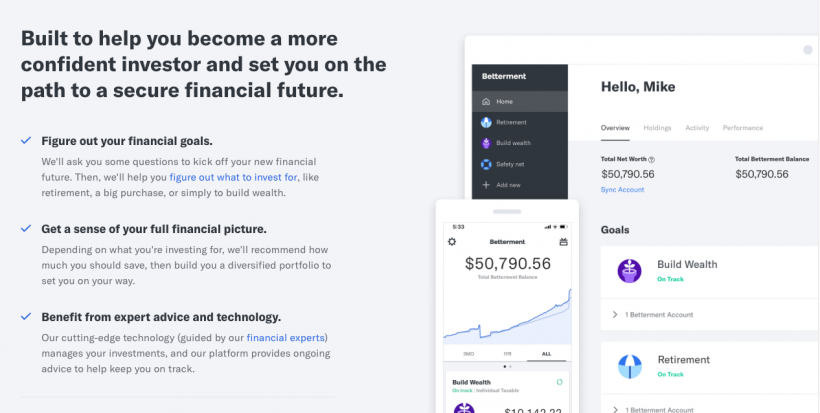 Like many robo-advisors, it is possible to make a financial plan for specific events, such as saving for college or a holiday. The ability to take investor preferences into account is quite significant, and clients can tailor their risk tolerance if it changes. The platform as a whole is solid, quick, intuitive, and easy to use, with a good range of tools to make it clear to the user what their financial situation is at any given time.
Platform & Tools
Annual Fee
Minimum Investment
Assets Under Management
Human Advisors
Robo Advisor
Automatic Deposits
Online Platform
iOS App
Android App
Goal Tracker
Tax Loss Harvesting
401k Plans
IRA Accounts
Roth IRA Accounts
SEP IRA Accounts
Single Stock Diversification
Fractional Shares
Taxable Accounts
Trust Accounts
529 Plans
Betterment
0.25% - 0.4%
$0
$16 Billion
M1 Finance
0.00%
$0
$500 Million
Wealthsimple
0.4% - 0.5%
$0
$4 Billion
SigFig
0.25% - 0.50%
$2,000
$210 Million
Ellevest
0.25% - 0.5%
$0
$100 Million
Blooom
$120
$0
$3 Billion
Mobile App
The Betterment mobile application can be used to make deposits and withdrawals. You can also transfer money between accounts, view your holdings, and observe overall portfolio performance. It is also possible to refer friends or contact customer support through the mobile application.
However, like most robo-advisor applications, there are some things that cannot be done through the application, mainly for security reasons. You will not be able to close your account, edit portfolio goals, adjust your portfolio goals, change your linked bank account, or edit personal information. Mobile applications are meant for quick and easy transactions, not for major changes.
Deposits & Withdrawals
Betterment requires a minimum deposit of $100,000 to use the premium service. This allows unlimited phone access to qualified advisors. Recurring deposits are easy to create and the SmartDeposit feature allows excess cash to be reinvested up to the desired amount. To fund a Betterment account, you can use an ACH electronic transfer, and debit/credit card deposits are not accepted.
For transfers larger than $300,000, detailed wire transfer instructions will be provided. It is also possible to fund the account with the transfer of securities using ACATS, though clients will need to get in touch with the support team to facilitate this. Withdrawals take between 2 - 4 business days and there are no withdrawal fees.
Customer Experience
The customer experience with Betterment is reported as highly satisfactory, due to a streamlined investment process and the support of human advisors for investors with over $100,000 in capital. The goals-based planning tools are quite popular and there are packages available for specific life events. Customer reviews for this platform have been very positive, which is one reason as to why it is one of the biggest robo-advisors around.
Customer Support
The customer support with Betterment is excellent for those availing of Betterment premium. Even regular users can easily contact customer support for basic account questions, such as how to get set up (not to inquire about investment advice). Betterment customer support is available 7 days a week by email and Monday to Friday by phone.
Security & Reliability
Betterment is a member of the Financial Industry Regulatory Authority ("FINRA") and securities are protected by the Securities Investor Protection Corporation ("SIPC"). SIPC protects against the loss of securities by a financially troubled brokerage, though it does not protect against a decline in value for a given security. The limit of this protection is $500,000, with a limit of $250,000 for cash deposits. However, Betterment deposits are not Federal Deposit Insurance Corporation ("FDIC") insured.
Betterment makes use of Two Factor Authentication for logins. This is widely regarded as the best kind of security protocol to protect user data. In addition, they encrypt browser to user communications, secure their servers, log out inactive users, run background checks on all employees, verify the identity of new customers, and use third-party verification procedures.
Security & Reliability
Regulated By
Year Founded
Country of Origin
Betterment
FINRA, SEC
2008
USA
M1 Finance
SEC, FINRA
2015
USA
Wealthsimple
FINRA, SEC
2014
Canada