InvestorGreg upholds the most rigorous standards for testing of brokers. We may receive compensation for advertising or for links that feature inside our reviews. Learn more about our
methodology and review process
.
Updated January 29th, 2020
Introduction
This Ellevest review will demonstrate that Ellevest is quite different than most robo-advisors. For one thing, they are orientated towards women as opposed to men. For another, they don't rely entirely on investor risk preferences (though it is still factored in). This represents a departure from the Modern Portfolio Theory model that other investment strategies are based upon. Ellevest is aimed at a niche market - women who are new to investing with specific goals in mind.
Pros
Low Fees

Fees are only 0.25% for the basic services.

No Account Minimum

There are no minimum account thresholds.

Huge Range of Asset Classes

Over 21 different asset classes, including real estate.

Human Acces

Access to a group of professional financial advisors.
Cons
No Tax-loss harvesting

The platform does not offer tax-loss harvesting capabilities which could turn off high net worth individuals.

Limited Accounts

Ellevest only supports a limited number of investment accounts.
Ellevest is a value-based platform that allows women to reach their financial goals at a very competitive rate
How Does Ellevest Work?
Ellevest is aimed specifically towards women, and this has to be kept in mind. The approach is less analytical and financial plans are created in an attempt to satisfy specific life goals, and not just for the purposes of creating wealth for its own sake. The portfolio mix is created to satisfy the unique needs of the women that are investing. They can also allocate funds specifically to women-owned enterprises. Their investment model is based on liability-driven investing, which estimates the cash flow required to fund future goals.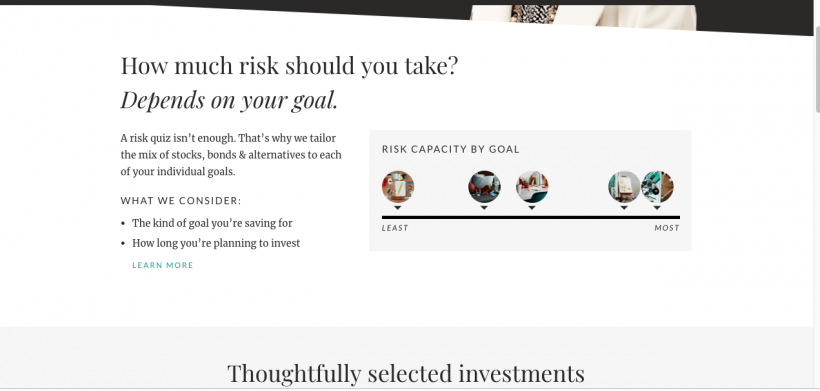 Commissions & Fees
Ellevest fees are competitive, like many robo-advisors. They charge 0.25% for the basic package and 0.50% for Ellevest premium. They offer a large variety of socially responsible funds, but these tend to be more expensive than standard ETFs. It needs to be noted that Ellevest aims to reach financial goals, not to meet an arbitrary benchmark. Investments can be tailored to meet an investing goal as it draws near.
There are some other fees with Ellevest, though these are typically third-party fees charged by Folio Investing, the Ellevest custodian. These charges include paper statement fees, termination fees, prepayment penalties, wire transfer fees, etc. Ellevest does not charge any fees for transferring accounts over and there are no fees on the Emergency Fund management facility. There are also ETF fund management fees which are external to Ellevest, but these tend to be minimal and Ellevest looks for low-cost funds.
Platform & Tools
The platform with Ellevest will not satisfy advanced investors, who would like to see some more customization options and charting tools. And the supported account types are minimal. But it will certainly satisfy the vast majority of female investors, who want some help with reaching their financial targets.
Research has demonstrated that women are at a disadvantage towards men when it comes to investing and retirement, and Ellevest is making an impact in helping them to invest. Ellevest really excels in its goal-based savings features, similar to Wealthfront and Betterment. The emergency fund management is a nice touch to help in case of emergencies.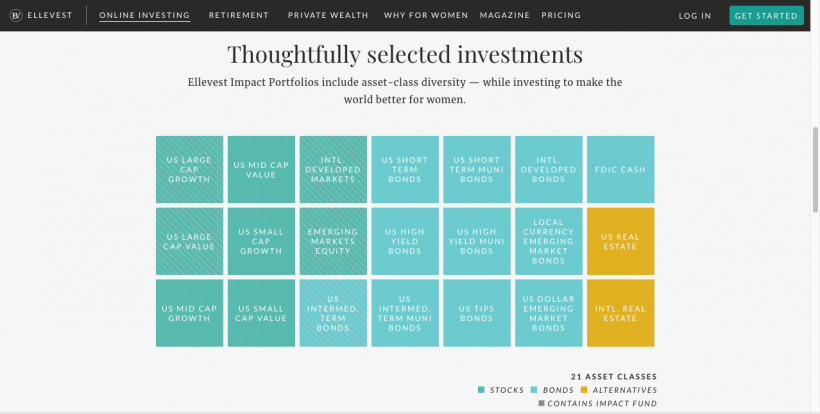 Platform & Tools
Annual Fee
Minimum Investment
Assets Under Management
Human Advisors
Robo Advisor
Automatic Deposits
Online Platform
iOS App
Android App
Goal Tracker
Tax Loss Harvesting
401k Plans
IRA Accounts
Roth IRA Accounts
SEP IRA Accounts
Single Stock Diversification
Fractional Shares
Taxable Accounts
Trust Accounts
529 Plans
Ellevest
0.25% - 0.5%
$0
$100 Million
Blooom
$120
$0
$3 Billion
WiseBanyan
0%
$1
$170 million
FutureAdvisor
0.50%
$5000
$1 billion
Wealthfront
0.25%
$500
$12 Billion
Mobile App
Ellevest has only one application, and that is on iOS. There is no application for Android, which might be problematic for many investors who use an Android smartphone. The mobile application has similar functionality to the desktop version. It can be used to review your portfolio performance, invest in portfolios, deposit and withdraw funds, check your balance, and refer friends. You can also take a look at the Ellevest magazine for news and financial trends. However, there are some things that you need to go to the desktop site to achieve, such as starting a rollover account.
Deposits & Withdrawals
There is no minimum deposit with Ellevest, which is a significant advantage. The premium services do require a $50,000 minimum investment, which is half the typical $100,000 charged by most robo-advisors for premium services. The Private Wealth Management package requires a minimum investment of $1 million.
There are no fees to withdraw money with Ellevest and deposits are easy to make through the desktop or mobile application. After depositing with Ellevest, it might take 2 or 3 days for them to invest the funds into your portfolio allocation, for security purposes. It can take between 5 - 7 business days to see the funds in your bank account once a withdrawal request has been initiated. The withdrawal for IRA accounts may take a bit longer due to the potential tax implications.
Customer Experience
While Ellevest is a niche offering, the women who use the services are happy. Personalized financial management is what investing is all about. Men can also invest with Ellevest and it will take their preferences into account. It is the perfect tool for female investors who want to meet specific financial targets without any sophisticated technical analysis.
Customer Support
Ellevest does have customer phone support, but it is only available Monday to Friday during business hours. However, there is also a live chat option as well as Facebook chat support, and a knowledge base that can be made use of.
Security & Reliability
With Ellevest, securities are insured with the Securities Investor Protection Corporation ("SIPC") up to $500,000. This figure is for all of your trading accounts, so you are not covered for $500,000 across every account. Ellevest is not a bank or a brokerage. Like all robo-advisors, they state that they do not give away any personal information to third parties and only use the information to deliver personalized portfolio recommendations.
All assets are held by Folio Investing, not by Ellevest. Folio Investing acts as the custodian for Ellevest assets, and is an SEC-registered investment advisor. Ellevest is also registered with the SEC. Ellevest enforces strong passwords, uses automatic logouts, and deploys Two-Factor Authentication ("2FA") as basic security protocols. These are standard security practices. All communications are encrypted and they use DigiCert for enhanced security.
Security & Reliability
Regulated By
Year Founded
Country of Origin
WiseBanyan
SEC
2014
United States
FutureAdvisor
SEC
2010
United States