InvestorGreg upholds the most rigorous standards for testing of brokers. We may receive compensation for advertising or for links that feature inside our reviews. Learn more about our
methodology and review process
.
Introduction
Saxo Bank is a brokerage platform that allows its clients to access more than 35,000 different financial instruments from a range of different asset classes. The broker has been in business since 1992 and it was originally started as an investment bank in Denmark. Over the years, it has grown into a comprehensive online broker that offers an extensive range of CFDs and forex trading.
The broker has a global offering and it has a great reputation thanks to its many years in business. It is also under the regulation of many leading oversight bodies across the world. This includes the Financial Conduct Authority (FCA) in the UK and the Danish Financial Services Agency (FSA).
This Saxo Bank review looks at the different aspects of this offer. This allows you to get an objective insight into what the platform has to offer its clients.
Pros
Low-cost offering

Most of the different asset classes available through Saxo Bank can be traded at very low costs when compared to other leading brokers.

Strong trading platforms

The two proprietary trading platforms provided by Saxo Bank are top-quality. They are very customizable, have a range of tools and features that will enhance your trading while still being easy to use.

Wide range of investable instruments

You can trade a wide range of instruments on Saxo Bank, with access to more than 35,000 different trading opportunities.
Cons
Customer support issues

There is currently no 24/7 customer support at Saxo Bank and there is no live chat feature.
We build digital platforms to facilitate multi-asset market access and provide clients of all sizes with professional-grade tools, industry-leading prices and best-in-class service.
Commissions & Fees
Saxo Bank aims to be an online broker that has ultra-competitive commissions and spreads for all of its respective asset classes. It also tiers its fee structure that means those who trade more will be able to get discounts on these fees. Most of its trading fees are pretty low when compared with the other leading brokers in the online space today. This goes for trading shares in Europe, forex trades, and mutual fund trading. Its CFD fees are about average for the sector, along with its fees for trading US securities.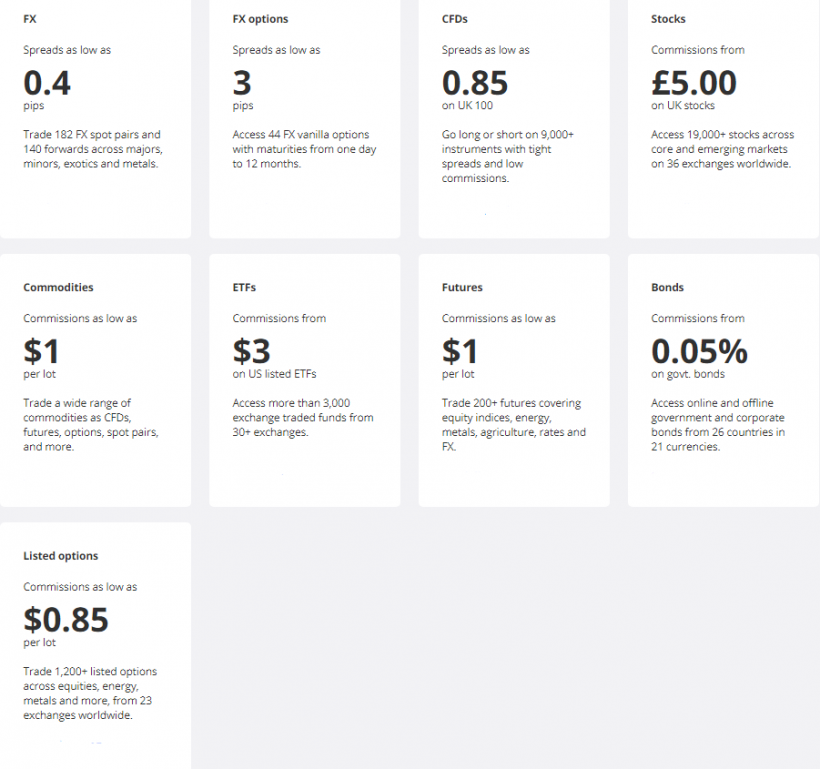 The only way in which you can trade crypto on Saxo Bank is through the use of exchange-traded notes. For classic account holders, there is a 0.1% trading fee on crypto transactions, with a minimum fee also being in place.
If you are using the robo-advisory services of Saxo Bank, there will be a fee charged that will vary depending on where you are based and what package you select. This ranges from 0.75% to 0.95% of your invested funds. Finally, you do not have to deal with any transaction fees, but the inactivity is pretty high. This varies depending on your region, with UK clients paying £25 if not trades were made during the previous quarter. There is also a custody fee in place of 0.12% of all open positions or a monthly minimum fee when trading bonds, ETFs or stocks.
Commissions & Fees
Stock
ETFs
Options
Bonds
Forex Spreads
CFDs
Futures
Metals
Cryptocurrency
Saxo Bank
From 0.1% commission
From 0.1% commission
From £2.50 per lot
From 0.05% commission
From 0.4 pips
From £0.85
From £3 per lot
From 0.1% commission
0.1%
AvaTrade
Average 0.13%
Average 0.13%
Spreads Vary
0.03 Over Market
From 1.3 pips
From 0.13%
From 0.4pips
0.75% to 1.5% Over Market
EasyMarkets
From 0.001 pips
From 1.8 pips
From 5 pips
From 45 pips
Spreads from $45
IQ Option
From 0.16%
From 0.018%
From 0.035%
From 0.03%
From 0.16%
From 0.093%
From 0.064%
24option
€10 fee per month
eToro
0.09% spread per side
0.09% spread per side
From 3 pips
From 0.09%
From 2 pips
From 1.5%
Platform & Tools
For more casual traders, the SaxoTraderGO trading platform will be a good fit for you. This platform is one of the best in the space today. It is very easy to use and it also provides you with access to very powerful trading features. You can access a wide range of trade signals, as well as being able to trade the gambit in terms of the Saxo Bank investment offering.
The SaxoTraderPRO platform is for professional traders. This platform is fully customizable and it incorporates advanced trading features such as algorithmic orders, options chains and advanced charting packages. There is a massive range of different languages you can choose from when using these trading platforms. You have a great range of different order types and the speed of the two platforms is top-notch.
Platform & Tools
Desktop Platform (Windows)
Desktop Platform (MacOS)
Web Platform
MT4
MT5
Research & Analysis
Social trading
Education
Demo account
Mobile App
You can download the Saxo Bank trading app for Android and iOS devices. You still have the same user-friendly experience as seen on the desktop platform. There is also a decent crossover of features. Most languages are still catered for and you have access to the same range of order types, search functions and alerts.
There is biometric authentication that can be used as a security feature. The menu system could do with a bit of an upgrade to make things a bit clearer, but overall, the Saxo Bank mobile app is handy when placing trades on the go when you do not need to do much research.
Account Types
While Saxo Bank is a global offering, there are residents from certain countries that cannot open an account. There are three main types of accounts to choose from. There is the classic account that is an ideal fit for more casual types of traders. It has a minimum deposit of £500 and provides you with the standard Saxo Bank offering.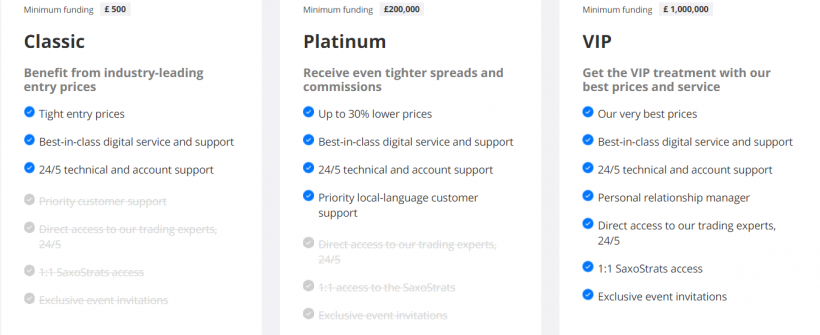 There is also the platinum account type that has a £50,000 minimum deposit and a VIP account with a £1,000,000 minimum deposit. These two other account types have a lot more favorable pricing, as well as having a dedicated account manager that you can deal with. You can create a corporate account and tax-efficient accounts if you wish to do so.
Deposits & Withdrawals
There are no transaction fees charged by Saxo Bank and the minimum deposit will vary depending on what account type you are using. For most clients that use a classic account, the minimum deposit will be £500. You can fund your account using nineteen different currencies. The main ways for you to add funds to your Saxo Bank account is through a bank transfer or by using a credit or debit card.
Your funds will process almost instantly if using the card option, with the bank transfer usually taking a few business days. You can only make withdrawals through a bank transfer, with these funds usually processing within a day or two. Currently, there are no e-wallet options supported at Saxo Bank.
Deposits & Withdrawals
Minimum deposit
Withdrawal Time
Withdrawal Fee
Saxo Bank
£500
1-2 business days
0
AvaTrade
$100
1 - 2 business days
Free
EasyMarkets
€100
3 - 10 business days
Free
IQ Option
$10
Within 1 business day
Free
24option
$250
5 - 10 business days
$35
eToro
$200
Within 1 business day
$25
Customer Support
With the Saxo Bank website, there is a comprehensive menu system that allows you to quickly find the given aspect of the offering that you are looking for. If you cannot find the answer to the question you are looking for, then you can contact the Saxo Bank support team. You can do so by giving them a call over the phone. There is a range of languages supported and once you get the support person on the line, you will get your issue resolved quickly.
For more detailed or less urgent questions, you can send them an email. The response team is usually within 24 hours. There is a chatbot for more basic types of questions but you cannot live chat with the support team. With sixteen offices across the world, the phone lines stay open from Monday until Friday between 9 AM and 5:30 PM local time for these respective offices.
Security & Fairness
Saxo Bank has been around for a number of decades and during this time it has built up a strong client base and a great reputation. As a global broker, Saxo Bank is under the oversight of many of the best financial authorities across the world, such as the FCA in the UK and the FSA in Denmark. This gives clients a sense of security when they are using the platform.
Client funds are segregated from the operational funds of the business. This means that in the case of liquidity issues, Saxo Bank or its creditor cannot touch the client funds that are kept with tier one banks. The protection schemes in place for clients will vary depending on where they are based. For example, UK clients will be covered by the FCA for sums of up to £85,000.
There are some additional security features you can enact on your Saxo Bank account, but there is a lack of two-factor authentication. For its mobile app offering, you can enact biometric authentication. All data is properly encrypted when it is transferred or stored by Saxo Bank.
Compare Saxo Bank
Find out how Saxo Bank stacks up against other brokers