InvestorGreg upholds the most rigorous standards for testing of brokers. We may receive compensation for advertising or for links that feature inside our reviews. Learn more about our
methodology and review process
.
Updated January 29th, 2020
Introduction
Blooom is an automated investment platform specializing in retirement planning. It has a clearly defined pricing model of just $10 a month with no minimum deposit. It is only for retirement accounts and not for other kinds of investment. This makes it one of the most niche robo-advisors on the market.
Pros
Low Fees

At just $10 a month, fees are hard to beat.

Perfect for Retirement Accounts

Specializes in 401(k) retirement planning, and are very good at it. It also offers 401(a), 403(b), 457, and TSP plans.

No Account Minimum

There is no minimum investment with this robo-advisor.

Free Portfolio Analysis

Anybody can register an account and get an analysis of their retirement account.

Beautiful Design

While it might be a little on the basic side, the Blooom design is very aesthetically appealing and easy to follow.
Cons
Limited accounts

Only deals with non-taxable retirement accounts, not taxable or IRA accounts

Limited Investment Options

Blooom has a basic number of investment options and a lack of technical tools.
Blooom is perfect for 401(k) retirement planning and this is what it specializes in - other account types need to look elsewhere
How Does Blooom Work?
Bloom research discovered that up to 83% of 401(k)s are incorrectly managed, and set put to change this for US citizens. Blooom only manages employer-sponsored retirement plans, not IRAs or taxable investment accounts. They still gauge user risk preferences, though it is not as extensive compared to other robo-advisor questionnaires.
Blooom can work with any online 401(k) plan and you still retain full control over what you invest in. It takes your age and expected retirement date into account when allocating funds and looks for low-cost funds. The way this works out is that your portfolio will contain more stocks if you are young and more bonds if you are old.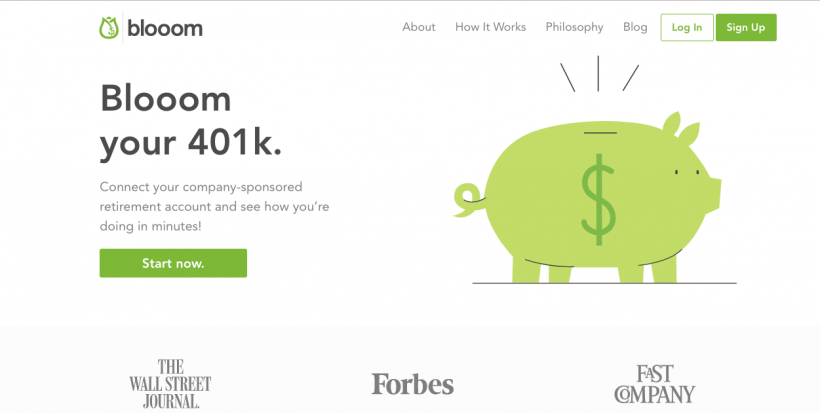 Commissions & Fees
At $10 a month, the fees with Bloom are among the cheapest available. Most robo-advisors charge 0.25%, and this is without providing any personal financial services. For these additional services, the fees often bounce up to 0.4% - 1%. The Blooom platform can be made even cheaper with the current promotion, bringing it down to $99 a year.
According to Blooom, its median account balance is $49,000, which puts the $10 a month fee at around 0.24% a year. But investors with less than $10,000 are actually paying more in fees (~1.2%), though it may appear cheaper due to the transparent pricing model and flat upfront fee. The flat monthly fee is taken from your credit/debit card, not from your Blooom account.
There are no hidden fees with Blooom. You can even get a 401(k) analysis for free in less than 10 minutes. There are no tiered/premium services with Blooom.
Platform & Tools
The tools on offer might be described as limited, but this is mainly because Blooom is only interested in retirement planning. Less sophistication is needed for a single product. As such, the platform is easy to use and straightforward. Experienced investors might complain about the lack of tools, but it is not meant for complex traders - just retirement accounts with one goal in mind.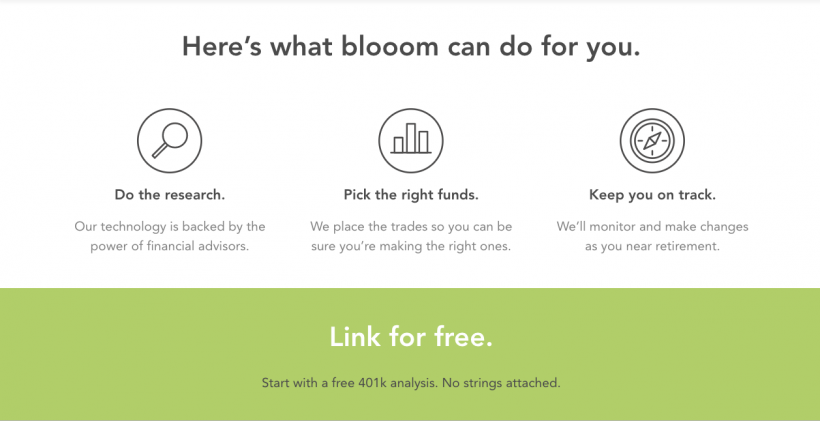 While you can customize your allocation, changes are subject to review by a financial advisor. Blooom leans towards index funds as opposed to actively managed funds. The platform and tools are not complex - but they are easy to use and perfect for what they are designed for, which is mainly 401(k) management.
Platform & Tools
Annual Fee
Minimum Investment
Assets Under Management
Human Advisors
Robo Advisor
Automatic Deposits
Online Platform
iOS App
Android App
Goal Tracker
Tax Loss Harvesting
401k Plans
IRA Accounts
Roth IRA Accounts
SEP IRA Accounts
Single Stock Diversification
Fractional Shares
Taxable Accounts
Trust Accounts
529 Plans
Blooom
$120
$0
$3 Billion
WiseBanyan
0%
$1
$170 million
FutureAdvisor
0.50%
$5000
$1 billion
Wealthfront
0.25%
$500
$12 Billion
Morgan Stanley
0.35%
$5,000
$463 Billion
Mobile App
Blooom does not actually have a mobile application of any kind. Many might find this surprising. But it makes sense. 401(k) plans alone do not need to level of mobile monitoring or adjustments compared to other diverse portfolio accounts.
The desktop application is incredibly well-designed with a 'flower' theme to encourage a natural and organic investment approach, and functions very smoothly. Moreover, the retirement target market might not be as mobile-friendly compared to the younger generation. Millennial investors are not as concerned with 401(k) planning as the Blooom target market.
Deposits & Withdrawals
In order to withdraw from a 401(k), Blooom needs to contact your custodian. Withdrawing from a 401(k) is different from withdrawing from other types of investment accounts, and it generally takes more time to clear. Blooom will never take money out of client accounts.
You don't really deposit anything with Blooom. You simply link an existing online 401(k) plan. After this, it takes about 7 days for Blooom to adjust your portfolio plan. You continue to make your contributions to the 401(k) plan as opposed to depositing with Blooom. Your 401(k) account stays exactly where it is and Blooom manages it on your behalf, though you get an email when changes are made and can also make manual changes yourself.
Customer Experience
Blooom is ideal for people who want to delegate the management of their 401(k) plans. It is not for professional investors who want to actively manage their portfolios. Customers are very happy as fees are low and Blooom takes care of all the heavy lifting. Additionally, it is easy to cancel with Blooom, easy to link retirement plans, and easy to get started.
Customer Support
Bloom does not provide phone support. All of its services are provided through chat and email, as well as SMS. Their customer service team is efficient and human advisors are at hand for any questions. The support team is highly responsive.
Security & Reliability
Blooom is an SEC-registered investment advisor. They are a fiduciary, meaning they have to act in the best interests of the client. Bloom takes all of the security precautions that can be expected of a financial advisor. These include 256-bit encryption on all communications, bank-level security on accounts, secure servers, and independent third-party verification.
Bloom does not have two-factor authentication for its desktop application. But because they do not have a mobile application, their services are inherently more secure by default - mobile devices are a bigger security threat compared to desktops. Blooom sends emails whenever changes are made to the account and sends SMS messages in the event of suspicious activity, such as a large withdrawal or a loan.
Security & Reliability
Regulated By
Year Founded
Country of Origin
WiseBanyan
SEC
2014
United States
FutureAdvisor
SEC
2010
United States
Morgan Stanley
SEC
1931
United States