InvestorGreg upholds the most rigorous standards for testing of brokers. We may receive compensation for advertising or for links that feature inside our reviews. Learn more about our
methodology and review process
.
Updated January 29th, 2020
Introduction
Morgan Stanley is a name that is synonymous with the world of finance. With the increasing popularity of robo-advisors, the finance giant decided in 2017 to launch its own offering of this kind.
This is called Morgan Stanley Access Investing and it was first launched in December 2017. The target audience for this investment offering is younger people, who may in the future be seeking a more fully encompassing advisory service.
Currently, there is a minimum investment in place for this program of $5,000 and for managing your assets, Morgan Stanley will take an annual management fee of 0.35%.
Naturally, the Morgan Stanley name adds a lot of weight to this offering, which is why it is popular with a lot of investors. As well as managed portfolios, investors can also manage their own funds through Morgan Stanley, but not through this platform if they wish to do so.
Pros
Industry-standard management fee

Most of the main competitors to Morgan Stanley's robo-advisory platform have a similar 0.35% annual management fee in place.

Reputable institution

Morgan Stanley is one of the pillars of the world of finance, so you know you are dealing with a reputable offering.

Variety of investment strategies catered for

Depending on your specific needs and preferences, you can select an investment strategy that suits you. This includes socially responsible strategies.

Well-suited to hands-off investors

You can set your goals and select the investing style and sit back and watch the progress of your investment without having to do anything.
Cons
Customer support is somewhat limited

There is no live chat option and no operating hours are given for the phone lines or mail inbox.

Operating expenses to be considered

You do have to pay operating expenses on some of the ETFs and mutual funds that you will be invested in by the Morgan Stanley team.
We use algorithms to recommend a model portfolio made of Mutual Funds and Exchange-Traded Funds (ETFs) that are hand-picked by our experienced investment team.
How Does Morgan Stanley Work?
If you are looking to open an investment portfolio with Morgan Stanley Access Investing, you will first face a number of questions relating to your current financial situation and your future goals. There are eight separate defined goals, being:
Retirement
Buy a car
Build wealth
Buy a house
Save for a wedding
Start a business
Custom purchase
Education
Once you have selected your goal, you will need to enter key info such as your date of birth, yearly income, your savings target and your investing time horizon that is preferable to reach your main goal. This ranges from a three-year horizon, up to 20 years.
After providing this info, you will then be recommended one of three potential portfolio approaches. There are seven different themes you can select from and add to the new portfolio.
After defining your goals and deciding upon your investing strategy, when you need to add funds to your account and determine how much you want to add on a regular basis, usually monthly. This allows Morgan Stanley to give you accurate progress updates on how well you are on track to hit your goal in your specified timeframe.
Commissions & Fees
In order to have the Morgan Stanley Access Investing team manage your investments, there is an annual management fee of 0.35% charged to you. This fee is broken down and charge don your account each quarter. There are no fees in place for making transactions, servicing your account or closing down your account.
There are separate fees that have to be paid for ETFs and mutual funds shares. This is mainly operating expenses when these transactions are made, but there are no short-term redemption fees or charged load costs in place.
All of these costs and fees can add up, leading to lower annual returns potentially.
Platform & Tools
You are able to find the Access Investing program through the Morgan Stanley wealth management section of the website. When you access the relevant section, you will find well-laid out information regarding this offering and you can get started on the process of opening up an account.
There is a tutorial video that walks you through the process step by step. The platform itself is solely for having your funds managed for you. Therefore, you mainly are just faced with standard reporting tools.
You can quickly get a quick overview of your portfolio's performance, with both graphical and numerical representation of your progress. You can also see the breakdown of this portfolio and how the individual pieces are performing. It is a very intuitive platform to use and has all of the tools you would need when using the services of a robo-adviser.
Platform & Tools
Annual Fee
Minimum Investment
Assets Under Management
Human Advisors
Robo Advisor
Automatic Deposits
Online Platform
iOS App
Android App
Goal Tracker
Tax Loss Harvesting
401k Plans
IRA Accounts
Roth IRA Accounts
SEP IRA Accounts
Single Stock Diversification
Fractional Shares
Taxable Accounts
Trust Accounts
529 Plans
Morgan Stanley
0.35%
$5,000
$463 Billion
Personal Capital
0.49% - 0.89%
$100,000
$10 Billion
Betterment
0.25% - 0.4%
$0
$16 Billion
M1 Finance
0.00%
$0
$500 Million
Nutmeg
0.25% to 0.75%
£500
£2 Billion
Mobile App
The mobile app has effectively the same design as the desktop offering. Everything has been nicely condensed in order to fit the smaller screen size and you have four main menu tabs to choose from, being: Summary, Status, Portfolio and Goal Details.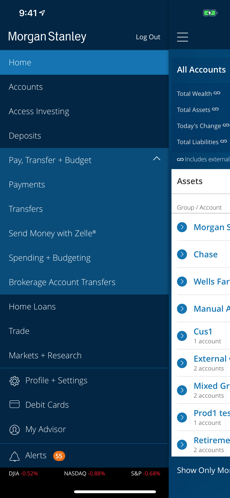 All major devices are catered for through this mobile offering, with the Android and iOS apps only being available through the respective app stores. There is no way for you to download these apps directly from the Morgan Stanley website.
Deposits & Withdrawals
There are a few different methods available to you when making a deposit or a withdrawal from your Morgan Stanley Access Investing account. You can use an ACH transfer, a mobile check, wire transfer, cash transfer from one of your other accounts with Morgan Stanley or get a rollover from one of the qualified plans.
There is the option to set a monthly deposit, adding funds to your account each month. You can easily tweak the sum each month depending on your needs. Generally, it will take between 3-5 business days for your funds to process and be credited to your account. Sometimes this is a bit quicker, but usually, it lies within the 3-5 day range. There is a similar processing time in place for making withdrawals.
Customer Experience
The Morgan Stanley Access Investing offering is mainly focused on those investors who want to take a more hands-off approach to investing. Therefore, the customer experience is kept uncluttered, not wanting to bog investors down with too much information or too many tools.
The platform itself is very easy to get started with and to track your progress over time. As your portfolio gets analyzed by the robo-advisor on a daily basis, you are safe in the knowledge that your investments are being well looked after and that they are not an afterthought that may be forgotten about.
Many investors will be happy with the tax-loss harvesting aspect of the platform, which can be automated, allowing for the minimization of all taxes. Another plus is that there is no extra charge in place for using this tax loss feature.
Customer Support
The customer support offering at Morgan Stanley is a bit lacking. While you do have the option to give the customer support team a call or send them an email, the operating hours for these contact methods are both provided.
There is also no live chat option, so you cannot instantly get an issue resolved by using such a service. There is an FAQ section that provides you with answers to the most basic questions regarding the Access Investing offering.
Security & Reliability
Morgan Stanley is one of the biggest names in finance, so you know you are dealing with one of the most heavily scrutinized institutions in the space by the authorities. All of the client funds are kept separate through the Morgan Stanley Smith Barney LLC. This means that these funds are protected through excess insurance, as well as through the Securities Investor Protection Corporation (SIPC).
In terms of the security of the platform itself, there is 256-bit SSL encryption utilized in order to keep your personal and financial data safe when using this platform. You can also enact two-factor authorization onto your account to give you an additional layer of security.
Security & Reliability
Regulated By
Year Founded
Country of Origin
Morgan Stanley
SEC
1931
United States
Personal Capital
SEC
2009
United States
Betterment
FINRA, SEC
2008
USA
M1 Finance
SEC, FINRA
2015
USA
SoFi
SEC, FINRA
2011
United States
Nutmeg
FCA
2012
London, UK