InvestorGreg upholds the most rigorous standards for testing of brokers. We may receive compensation for advertising or for links that feature inside our reviews. Learn more about our
methodology and review process
.
Updated January 29th, 2020
Introduction
Social Finance, or SoFi for short, is a company based in the United States that started out in 2011. In the early days, it mainly focused on being an organization for student lending. However, as time went on it branched out into other areas of finance.
SoFi now offers a variety of different services most notably both automated and active investing brokerage services. It is under the regulatory control of both FINRA and the SEC in the US.
It has been focusing more on its robo advisory services in recent times, having made a significant impact in this sector to date. This is due to it having no admin or advisory fees. Investors are also able to access low-cost funds for low buy-ins and there are even complementary sessions available with financial planners.
As a broker, it tends to focus more on younger investors who will be a lot more conscious when it comes to fees. This review looks into the various strengths and weaknesses of the SoFi offering.
Pros
Low-cost structure

SoFi has minimal trading and admin fees, making it one of the most cost-effective platforms in the space.

Access to finance professionals

There is a team of financial advisers on board at SoFi that can help you throughout the entire investing process.

Very good planning tools

When setting up your managed portfolio, there is an in-depth goal planning feature that helps you clearly define your financial goals.

Extremely straightforward account setup

The process of getting your SoFi account up and running only takes a matter of minutes.
Cons
No 24/7 customer support

While you can contact the SoFi customer support via live chat, email and by phone, the lack of around the clock support is disappointing.

Tools are a bit limited

The trading platform at SoFi is somewhat limited and there are not many tools or customization open to you.
You don't have to follow the market to master it. With automated investing we'll build and manage a portfolio for you without charging a management fee.
How Does SoFi Work?
With the SoFi Invest offering, you have the option to manage your own money or have a robo adviser do it for you. It is an easy to use platform that allows you to invest in the likes of traditional equities, ETFs and even cryptocurrencies. Its business model focuses on having a low-cost structure in place, being able to start off by investing just $1.
If you want to have your money managed on your behalf, you first start out by conducting a goal planning session. This allows the SoFi robo adviser to understand your financial situation and what you are hoping to achieve. You will eventually have a discussion with a human financial advisor to learn why your portfolio is set up in the way that it is.
Then it will create a diversified portfolio for you based on its algorithm which mainly utilizes ETFs, rebalancing the portfolio on a quarterly basis depending on your changing needs and different market conditions. In total, there are five different traditional risk tolerance levels that you will choose from, being:
Aggressive
Moderately Aggressive
Moderate
Moderately Conservative
Conservative
Commissions & Fees
The standout feature for SoFi is it low cost and fee structure which is aimed at getting young investors on board. All ETFs trades and US stock trades are commission-free and you do not have to deal with any withdrawal, or inactivity fees on your SoFi Invest account.
There are also no fees for managing your investments, which is in contrast to the yearly 0.25% management fee charged by some of the major competitors.
This low-fee approach has been paying off for SoFi, allowing it to have one of the lowest sets of trading fee structures in the space today.
Finally, there is no margin trading available at the moment through SoFi Invest.
Platform & Tools
The SoFi desktop trading platform is a solid, yet unspectacular one. While it is intuitive to use when making investments, there is not much customizing you can do. As there are eight different offerings under SoFi Invest, the menu is a bit cluttered and choosing between the various options can get a bit confusing at times.
You can only put in place a few predefined alerts, so you cannot create your own alerts depending on your specific needs. There is also only the option to make market orders, so you do not have access to the likes of stop-losses. Thankfully, the search function is smooth, allowing you to quickly add different assets onto your watch list.
Platform & Tools
Annual Fee
Minimum Investment
Human Advisors
Robo Advisor
Automatic Deposits
Online Platform
iOS App
Android App
Goal Tracker
Tax Loss Harvesting
401k Plans
IRA Accounts
Roth IRA Accounts
SEP IRA Accounts
Single Stock Diversification
Fractional Shares
Taxable Accounts
Trust Accounts
529 Plans
Personal Capital
0.49% - 0.89%
$100,000
Betterment
0.25% - 0.4%
$0
Wealthsimple
0.4% - 0.5%
$0
Nutmeg
0.25% to 0.75%
£500
Mobile App
The mobile offering is a bit better than the desktop platform, with the navigation system being a lot smoother and the platform as a whole being a lot more up to date. All of the functions that are part of the desktop platform transfer over the mobile offering.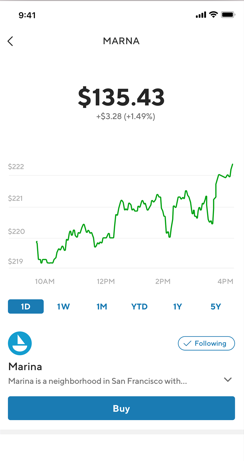 Generally, both Android and iOS SoFi Invest app users are happy with the mobile offering.
Deposits & Withdrawals
All deposits and withdrawals you make through SoFi Invest will not be charged any fees. The process itself to add or take out funds from your account is very intuitive and straightforward. It only requires a few clicks and you are good to go.
You are only to have an account in US dollars, which may be an inconvenience for some investors. If adding funds to your SoFi Invest account which has a different base currency, your bank will likely levy some conversion fees. There are also no options to add funds via debit or credit cards or any e-wallets.
For clients in the US. You can add funds via wire transfer, ACH transfer or by check. This quickest of these methods is the ACH transfer, which will normally take 2-3 business days for your funds to be processed and credited to your account. A bank transfer can take 3-5 business days when both adding and withdrawing funds using this method.
Customer Experience
SoFi treats its customers very well. In addition to the low-cost structure of the offering, as SoFi invest is tailored to more of a younger audience, it places more of an emphasis on going the extra mile to keep its users happy. There is quality support from the platform's certified financial advisers and the goal planning and tracking tools are a great way to quantify the financial needs and process given account holders are making.
Customer Support
While there is a nice variety of different methods to contact the SoFi customer support team, it is a downside that there is no 24/7 support available. If you have an issue, you can contact the support team via email, live chat or by telephone. The support team works from 7 AM to 5 PM from Monday to Thursday and 7 AM until 4 PM on Friday through Sunday.
The live chat function is well-suited to very basic questions, while the telephone option is ideal for more complex issues that are urgent. If you have a complex issue that is not overly urgent, you can send the customer support team an email. You can normally expect a response within 24 hours.
Security & Reliability
As SoFi is under the regulatory watch of leading financial watchdogs like FINRA and the SEC, this provides a good deal of comfort for investors that this is a secure and reliable offering.
In terms of protection of funds, all of the money invested through SoFi Invest is covered under the SIPC investor protection scheme. This means that account funds will be kept safe even in the event of SoFi going bankrupt. As part of SIPC, cash of up to $250,000 is covered, with total coverage for your portfolio reaching $500,000.
In terms of the security of the platform itself, SoFi utilizes 256-bit SSL encryption. This means that all of your personal and financial data will be properly encrypted.
Security & Reliability
Regulated By
Year Founded
Country of Origin
SoFi
SEC, FINRA
2011
United States
Personal Capital
SEC
2009
United States
Betterment
FINRA, SEC
2008
USA
M1 Finance
SEC, FINRA
2015
USA
Wealthsimple
FINRA, SEC
2014
Canada
Nutmeg
FCA
2012
London, UK