InvestorGreg upholds the most rigorous standards for testing of brokers. We may receive compensation for advertising or for links that feature inside our reviews. Learn more about our
methodology and review process
.
Updated January 29th, 2020
Introduction
This Wealthsimple review will demonstrate that the robo-advisor caters mainly to novice and ethical investors with its automated approach. However, it also offers personal advisors with its premium services.
Fees with Wealthsimple are a little on the high end, ranging from 0.4% - 0.5%. This is nearly double what the more competitive robo-advisors are offering. There is little to justify the higher fees, though it does offer fractional shares and human advisors are at hand. They have over $4 billion in assets under management and are based in Canada, with offices in New York and London.
Pros
Socially Responsible Investing

Offers a large number of socially responsible funds to choose from.

No Account Minimum

With fractional shares and no account minimum, anybody can invest with Wealthsimple.

Human Advisors

Can contact human advisors for personal advice.

Tax-loss harvesting

Offers the highly sought after tax-loss harvesting feature.
Cons
High Fees

Fees are far higher than comparable robo-advisors, at 0.5% for the basic package.

Limited Tools

There are no in-depth financial tools or resources with this financial planner.

No Goal Setting

There is no capacity to set and strive for financial goals, a feature common to many other robo platforms.
Wealthsimple is suitable for beginner investors who are interested in ethical portfolio allocations only, and its customer support is excellent
How Does Wealthsimple Work?
Wealthsimple works like many robo-advisors, allocating funds based on modern portfolio theory. It takes the risk preferences of customers into account and then allocates funds based on these preferences. Wealthsimple is very much a socially responsible platform and this is primarily what it is geared towards. It also excels in its customer support, with a live chat option.
Commissions & Fees
Wealthsimple charges a 0.5% fee for accounts under $100,000, and a 0.4% fee for accounts above $100,000. The expense ratio charges are between 0.9% and 0.12%. Socially responsible portfolios expense ratios are typically 0.25%. These fees are quite high for robo-advisors, especially for the socially responsible portfolios. This is not a fault of Wealthsimple, as socially responsible portfolios are always higher than other portfolios. But with the already high account management fees, it could seriously eat into profit margins.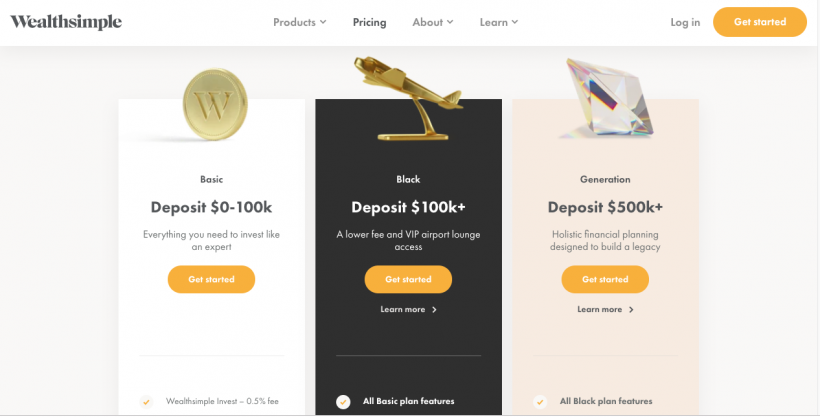 The first $10,000 can be managed for free, which can offset much of the fees for new investors. This $10,000 fee-free promotion is common among most robo-advisors. The fee plan is transparent and there are no hidden charges. Canadians can benefit from free stock trades, though this service is not available to citizens of other nations right now.
Platform & Tools
The tools available with Wealthsimple are limited, especially as there are no financial goal planning options. However, it does provide a free personal portfolio review, even for people who are not signed up to the platform. In contrast, to be put in touch with a Betterment personal advisor for a portfolio review costs $199. This is the main reason why fees with Wealthsimple are higher than its counterparts, as anybody can contact a personal advisor regardless of the account balance.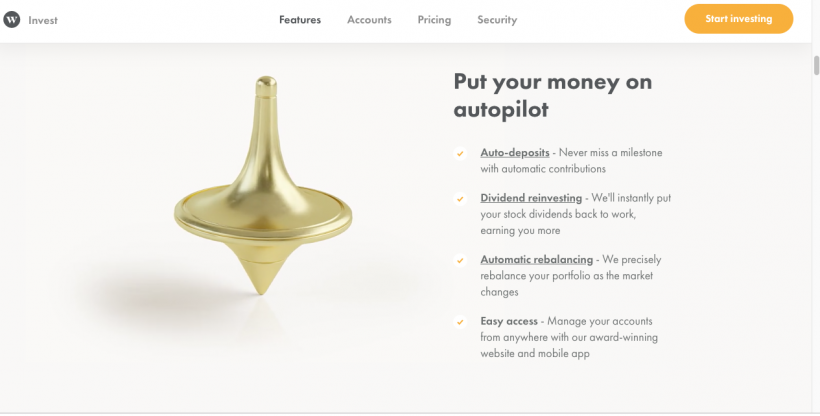 The Wealthsimple platform is designed to be very simple to use without any unnecessary extras. This is a bonus for beginners, but might not satisfy more experienced investors who want to see charts, planning tools, and extra resources. Of all robo-advisor platforms, Wealthsimple is probably one of the most appealing and easy to use.
Platform & Tools
Annual Fee
Minimum Investment
Assets Under Management
Human Advisors
Robo Advisor
Automatic Deposits
Online Platform
iOS App
Android App
Goal Tracker
Tax Loss Harvesting
401k Plans
IRA Accounts
Roth IRA Accounts
SEP IRA Accounts
Single Stock Diversification
Fractional Shares
Taxable Accounts
Trust Accounts
529 Plans
Wealthsimple
0.4% - 0.5%
$0
$4 Billion
SigFig
0.25% - 0.50%
$2,000
$210 Million
Ellevest
0.25% - 0.5%
$0
$100 Million
Blooom
$120
$0
$3 Billion
WiseBanyan
0%
$1
$170 million
Mobile App
The Wealthfront mobile application is not as robust as others. It has a rating of only 4.2 in the Google play store. This can be contrasted with other mobile applications from Betterment, Wealthfront, and M1 Finance, with ratings of 4.7 and above. Login issues and glitches are the main complaints, as well as the inability to skip recurring deposits instead of canceling them.
The app itself is very intuitive and user-friendly, like the desktop platform. But for many, it is too simple, with a single metric to analyze portfolio performance. Perfect for new investors, but not suitable for intermediate and experienced investors who want more functionality with their investments. The mobile application does come with a roundup feature, where people can invest their spare change in Wealthsimple funds.
Deposits & Withdrawals
The Wealthsimple platform allows unlimited deposits and withdrawals with no charge, unless you are using a non-standard withdrawal method. Withdrawals can take up around 5 business days, which is a little longer than most other investment advisors. It is easy to withdraw from Wealthsimple through the desktop platform (it cannot be done through the mobile application).
The first deposit with Wealthsimple can be done with a simple ACH fund transfer from a bank account. You can also choose whether or not this will be a recurring transfer. An existing investment account can also be transferred to the Wealthsimple platform, though you may need to get in touch with the support team for details on this, or at least consult the Wealthsimple knowledge center.
Customer Experience
The customer experience with Wealthsimple is mixed. It is most often described as being too simple, with a lack of data for the serious investor, and frequently criticized for its high fees. On the other hand, it is often praised for its simplicity and ease of use, making it perfect for beginners.
Customer Support
Wealthsimple really excels in the customer support department. They make everything as clear as possible and strive to be open to all classes of investors. This is why they are ideal for novice investors.
Security & Reliability
Wealthsimple is registered with the Securities and Exchange Commission as an investment advisor, and is also registered with the Financial Industry Regulatory Authority. In addition, securities are SIPC insured up to $500,000 with a maximum of $250,000 for cash claims. Like M1 Finance, Wealthsimple uses the Apex Clearing company to hold customer assets. On top of the SIPC protection, Wealthsimple provides $150 million in insurance, but this is across all accounts. It is unclear how robust this actually is. Wealthsimple accounts are not FDIC insured, which may be a cause of concern.
No bank details are stored with Wealthsimple, who use third-parties to keep this information. They are partnered with Plaid, an audited third-party who tokenize and encrypt sensitive data. Two-factor authentication is a feature of the Wealthsimple application. This is one of the most reliable and effective security measures available to ensure that no unauthorized people access client accounts.
Security & Reliability
Regulated By
Year Founded
Country of Origin
Wealthsimple
FINRA, SEC
2014
Canada
WiseBanyan
SEC
2014
United States