InvestorGreg upholds the most rigorous standards for testing of brokers. We may receive compensation for advertising or for links that feature inside our reviews. Learn more about our
methodology and review process
.
Updated January 29th, 2020
Introduction
SigFig is a low-cost robo-investment platform, much like its rivals Betterment and Wealthfront
It charges a low fee of 0.25% and offers tax-loss harvesting, automatic rebalancing, the first $10,000 managed for free, and financial planning tools.
However, SigFig is distinct from other robo-advisors, in the sense that it is more of an add-on. You use your existing brokerage account and connect it to SigFig - the money stays where it is. If you are a new investor, SigFig will open an account for you with TD Ameritrade.
Pros
Low Fees

0.25% fees to rival heavyweights such as Betterment and Wealthfront.

Human Advisor

Offers free access to a financial advisor.

Tax-loss Harvesting

Offers tax-loss harvesting to investors and goes one step further with tax-efficient migration and tax-optimized sales.

Excellent Customer Support

SigFig customer support is better than the vast majority of other robo-advisors.

Award-Winning Applications

The SigFig Android and iOS applications have won awards for their ease of use and functionality.

High Account Minimum

$2,000 account minimum with a $100,000 account minimum for the upgraded account.

Limited Brokers

You must keep your funds with either TD Ameritrade, Schwab, or Fidelity.
Cons
High Account Minimum

$2,000 account minimum with a $100,000 account minimum for the upgraded account.

Limited Brokers

You must keep your funds with either TD Ameritrade, Schwab, or Fidelity.
SigFig is a premier robo-advisor, especially effective for hands-off investors looking to take advantage of the best tax-optimization strategies
How Does SigFig Work?
SigFig first assesses the risk tolerances of investors through a questionnaire. After this, the funds will be allocated to 27 ETFs representing 9 asset classes. The allocation will depend on the risk tolerance of the investor. SigFig aims to be a middle-man between the broker and the retail investor. Customers can simply link their existing accounts to the SigFig application and take advantage of automated investment, once they have more than $2000 in funds. SigFig also offers a free portfolio tracking tool.
Commissions & Fees
At 0.25%, SigFig is very competitive, beaten only by zero-fee advisors such as M1 Finance, though the fees can go as high as 0.5% for the Diversified Income Portfolio. There are also ETF expenses from around 0.07% - 0.15%.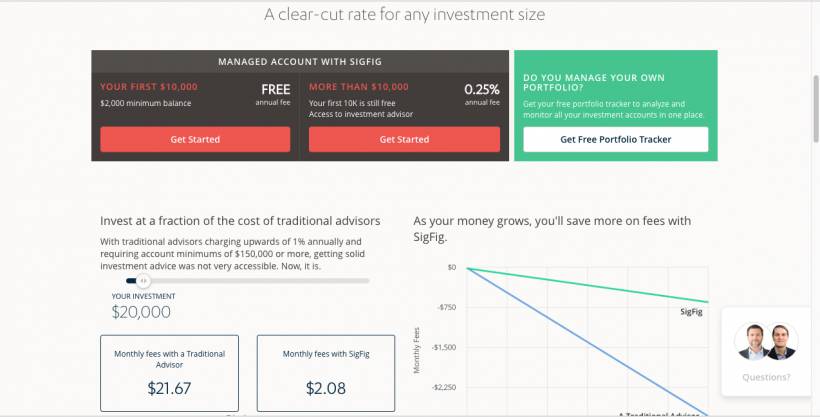 SigFig is a very cost-effective robo-advisor, especially when the free personal advisory services are taken into account. Many other robo-advisors charge between 0.4 - 0.6% due to these personal offerings, but SigFig has still retained its low fee model.
However, the $2,000 minimum deposit could deter some investors from linking their accounts in the first place. The first $10,000 is managed for free with SigFig, though you can try the portfolio analysis tool for free, and it can be done in under 3 minutes. There are no hidden fees with SigFig and it is easy to get started. Investors looking to take advantage of the "Diversified Income" package and the additional features need to deposit $100,000.
Platform & Tools
SigFig provides all of the tools associated with high-quality robo-advisors. You can link all of your various brokerage accounts into this platform for a better picture of your entire portfolio. Unfortunately, you cannot manage your credit cards or checking accounts with the SigFig platform. Also, there is no goal tracking feature seen with many similar advisors. SigFig was designed to analyze existing portfolios and optimize them quickly by identifying the major errors.
SigFig launched a features known as SigFig Guidance after conducting research which found that most investors performed poorly due to basic mistakes. This is a free automated tool to help investors find biases in their portfolio allocations. It takes less than 3 minutes to analyze your portfolio.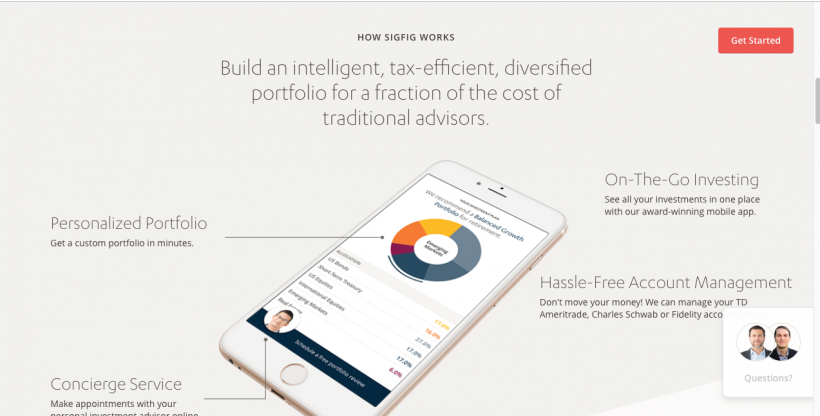 Platform & Tools
Annual Fee
Minimum Investment
Assets Under Management
Human Advisors
Robo Advisor
Automatic Deposits
Online Platform
iOS App
Android App
Goal Tracker
Tax Loss Harvesting
401k Plans
IRA Accounts
Roth IRA Accounts
SEP IRA Accounts
Single Stock Diversification
Fractional Shares
Taxable Accounts
Trust Accounts
529 Plans
SigFig
0.25% - 0.50%
$2,000
$210 Million
Ellevest
0.25% - 0.5%
$0
$100 Million
Blooom
$120
$0
$3 Billion
WiseBanyan
0%
$1
$170 million
FutureAdvisor
0.50%
$5000
$1 billion
Mobile App
SigFig has applications for iPhone, iPad, iTouch, Apple Watch, Android and Windows 8 tablet. The SigFig applications are known to be very smooth with intuitive, with few errors or issues. The mobile application has similar functionality to the desktop version. It is perfect for investors with a series of disparate brokerage accounts who want to view their performance in one single application. You can change your risk tolerance levels through the mobile application. SigFig has been named the top investment application for both iOS and Android.
Deposits & Withdrawals
You don't actually deposit anything with SigFig. You simply link your existing brokerage accounts (Charles Schwab, TD Ameritrade, or Fidelity) to the SigFig platform. For withdrawal requests, it typically takes 3/4 days for the funds to appear in the account. There are no withdrawal fees.
Like all robo-advisors, it is relatively easy to link accounts or withdraw funds with SigFig. The process is intuitive and clearly laid out. To add funds, you need to have a 'managed' account, not just the free portfolio tracker. Remember that you need at least $2,000 to trade with SigFig, and they do not offer fractional shares for small investments. For the "Diversified Income" plan you need to have $100,000.
Customer Experience
The customer experience with SigFig is positive with very little negative feedback, though SigFig does have some drawbacks. The main concern is that credit cards and bank accounts cannot be linked to the portfolio tracker, only the brokerage accounts, and the investment offerings are a little limited. But an award-winning application, low fees, a free consultation, free portfolio tracking tool, and excellent tax-loss harvesting means than SigFig is quite popular with its customers.
Customer Support
SigFig customer support is excellent. They have a live chat option, personal advisors, phone, and email support. It also helps that their application is so easy to use and user-friendly.
Security & Reliability
SigFig utilizes AES 256 bit encryption, which is the industry standard among banks and brokerage firms. This means that when users sign into their SigFig accounts, all of their communications are encrypted using this protocol. When linking your brokerage accounts to the SigFig platform, you need to input your brokerage credentials. This only needs to be done once to link the accounts.
SigFig regularly runs internal security audits and uses VeriSign to conduct a verified third-party audit. Their physical servers are protected by armed guards, 24/7 video surveillance, electronic locks, and protective casing. They are also encrypted and have other access restrictions.
SigFig is an SEC-registered investment advisor. Remember that SigFig does not hold your funds in their accounts - so it is not up to them to provide insurance (such as FDIC insurance) for your capital. SigFig is a member of SIPC, which protects invested assets up to $500,000.
Security & Reliability
Regulated By
Year Founded
Country of Origin
WiseBanyan
SEC
2014
United States
FutureAdvisor
SEC
2010
United States