InvestorGreg upholds the most rigorous standards for testing of brokers. We may receive compensation for advertising or for links that feature inside our reviews. Learn more about our
methodology and review process
.
Updated January 29th, 2020
Introduction
Groundfloor has been in operation since 2013 and they have their headquarters in Atlanta, Georgia. Their main area of focus as a crowdfunding real estate platform is on small residential real estate development projects. Most of their competitors focus their efforts on large commercial projects.
Groundfloor look to offer renovation loans to those flipping properties. Usually, these will be for single family properties or small multi-family properties. The investors get in on the action by taking an investment in the renovation loan. Since they started in 2013, Groundfloor has been the arranger for more than 330 loans, worth more than $40 million.
This is mainly in the form of short term financing. Most of their competitors go down the route of equity funding in some shape or form. Groundfloor is constantly expanding and they are a trusted online real estate investing crowdfunding company.
Pros
Well regulated

As the company is registered with the SEC, this means that they are under the watchful eye of one of the world's leading financial regulators. The deposits on Groundfloor are also covered up to $250,000 by FDIC insurance.

No fees

Investors on Groundfloor do not have to pay any fees.

Low minimum investments

You only need to invest $10 in order to get started with Groundfloor, which is massively lower than most of their competitors.

Short term investments

Unlike a lot of their competitors, the average duration of a Groundfloor loan is only six to twelve months
Cons
No secondary market

While Groundfloor has short term investments, there is no secondary market to liquidate your investments if you wish to do so.

No income distribution

Unlike a lot of platforms that have monthly or quarterly income distributions, you need to wait until your investment matures before getting access to your accumulated funds.
Groundfloor is open to everyone, not just accredited investors. Until now, investments like these have been out of reach of the average investor, open to only high net-worth investors and hard money lenders.
Where Groundfloor Stands Above Competition
Groundfloor is not just open to accredited investors. With low minimum required investment of just $10, anyone can dip their toes in the real estate investment space.
Unlike most of their competitors, the main area of focus is providing smaller, short term renovation loans for single or small multi-family properties. This is opposed to going after larger scale properties.
You are usually dealing with shorter term investments with Groundfloor than a lot of their competitors, with the usual length of investment being between 6 and 12 months in length.
All of the loans are secured on the given property, with a senior lien being held by the company. This makes your investments a lot safer than they otherwise would be if they were unsecured.
Where Groundfloor Falls Short
There is no secondary market on offer with Groundfloor. Therefore, you will have to hold your investment until maturity albeit, these are short term loans. There are a lot more risks associated with these types of loans than more safer options.
There will be a lot more variability due to the nature of flipping properties. This is why it is important to diversify your risk across many different properties if you decide to go down this route.
Another downside with Groundfloor is that you will not be earning regular income from these investments, as all f your funds will be distributed only when the loan has been completely repaid.
Fees & Features
One of the standout features of Groundfloor that there are no fees for investors. They make their money through charging interest on the loan to the borrower. You have access to a different type of offering than is seen with most of their competitors, being home renovation loans.
Another major feature is the short term nature of these investments. You will usually be dealing with life lengths of between 6 and 12 months. You also only have to invest as little as $10, which is nearly unheard of in the sector. This means you can spread your risk across a variety of loans on the platform.
All loans will be secured on the underlying piece of property, which does add an extra safety net to your investments.
A significant drawing point to Groundfloor is not having to be an accredited investor. This is a requirement for a lot of the main real estate crowdfunding platforms on the market today.
Minimum Investment
Account Fees
Investment Length
Return potential
Offering Types
Property Types
Regions Served
Groundfloor
$10
No fees
3-12 months
5%-16%
Home renovation loans
Residential
United States
RealtyMogul
$1,000
0.3%-0.5% annually
6 months to 10 years
REITs, Individual Properties, 1031 Exchanges
United States
PeerStreet
$1,000
0.25%-1%
6 months to 36 months
6%-9%
Real Estate Loans
Residential, Corporate
United States
Rich Uncles
$5
No broker/dealer fees. 3% funds fee
4-7 years
6%-7%
REITs
Student housing, offices, retail and industrial
United States
Fundrise
$500
0.85% annual asset management fee
4-7 years
8.7% to 12.4%
eREITs, eFunds
Commercial and residential
United States
LendingHome
$5,000
1.15%-2.6% on monthly interest
12 months
5%-10%
Bridge Loans, Platform Notes
Residential and Commercial
United States
How Does Groundfloor Work?
You set up an account for free with Groundfloor and you link your bank account in order to transfer your funds. Then you can vet the various projects on offer to see which are best suited to your specific needs and preferences.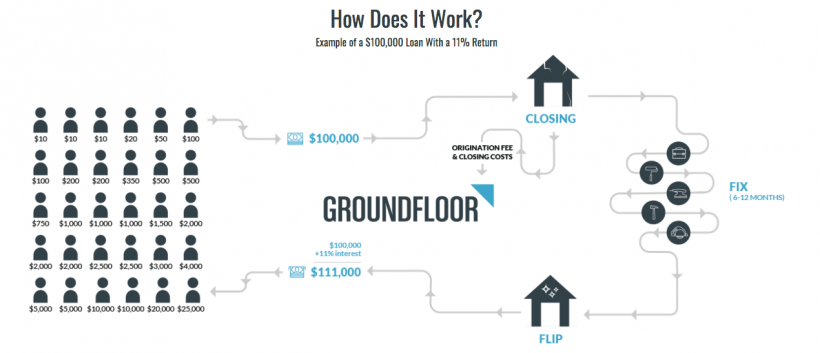 You can look at the in-depth information about the specific projects to get a better feel for what you will be investing in. There are called Limited Recourse Obligations (LROs) so the return will be based on the performance of the loan. When you invest on Groundfloor, then you become a creditor.
There is no way to sell your investment, so you need to wait until maturity to receive all of your funds. There is no regular income distribution either as part of this offering. When the investment concludes, you will get your funds back. You can reinvest them, or withdraw them to your bank account.
Portfolio Details
Your investments will be secured through the actual property. It will be through the Smart Platform that you can monitor the progress of your various investments. There will often be updates as to how the renovation work is coming along.
You will see your principal investment, as well as any earnings that have been accumulating over the duration of your investment.
Products
Groundfloor says that the average return on investment will be around the 10% mark. There are different interest rates depending on how risky the given loan may be.

The A grade will offer a 5% interest rate, with the highest risk grade being G which offers a 25.5% interest rate. Therefore, to get an average return of 10% you would need to be invested in a few different grades.
The majority of the loans will have a life length of 6 to 12 months. Most crowdfunding real estate platforms will have minimum investment lengths of a few years at least. The size of the loans themselves will range from $75,000 all of the way up to $2 million.
The loans can also be worth as much as 70% of the after repair value or as high as 90% of the loan to cost. They also need to be properties that are not occupied by the owners and they can only have a max of four units in the property.
Deposits & Withdrawals
The only way that you can make a deposit or withdraw your funds from Groundfloor is through a bank transfer.
When you fund your account, you need to link up your bank account. The funds usually process into your account within 24 hours and it can take a few business days for the money you withdraw to reach your bank account.
Customer Support
With Groundfloor, your first port of call if you have any issues or questions will be to check out their extensive FAQ section. If this does not provide you with the response you need, then you can contact the customer support team either by email or by ringing them on the phone.
Security & Reliability
Groundfloor has a registration with the SEC which allows them to operate in certain states. There is an expert due diligence team working within Groundfloor that will vet all of those people looking to borrow funds.
Our account with Groundfloor is protected through FDIC insurance. This means that all of your deposit funds will be protected up to a max of $250,000. Therefore, you can be sure that these funds resting in your Groundfloor account will be safe. The loans naturally can be risky, so there is no guarantee of getting a return on your investment.
What Groundfloor Is Best For
Beginner investors as there is a tiny minimum required investment of $10.
Non accredited investors who are not able to use other crowdfunding real estate platforms
Investors looking to diversify their real estate portfolios by incorporating small units of residential housing.
Investors looking to pay minimal fee when investing in real estate crowdfunding projects.