InvestorGreg upholds the most rigorous standards for testing of brokers. We may receive compensation for advertising or for links that feature inside our reviews. Learn more about our
methodology and review process
.
Updated January 29th, 2020
Introduction
Rich Uncles is a relatively new company and they offer real estate investing to non accredited investors. This is through three different non-traded, public real estate investment trusts (REITs).
They are one of the proponents of crowd funding property investing. This method of investing makes it much easier for the average investor to have an allocation of his or her portfolio dedicated to real estate investments, as you can invest as little as $5.
These REITs are required by law to pay out 90% or more of their total income through dividends to the shareholders. Therefore, investors can realize regular income through their investments.
Pros
Very low minimum required investment

The student housing REIT has an amazingly low minimum required investment of $5. This is almost unheard of in the industry. Their standard REIT offering also has a low minimum investment of $500.

Lower default risk

Rich Uncles mainly only purchase properties for their REITs with at least 50% cash down. Therefore, this significantly lowers the risk of default.

No broker/dealer fees

As Rich Uncles do not charge any fees or commissions for broker/dealer transactions, you will get more bang for your buck.

Triple net lease

This means that rising expenses for tenants will not be passed onto the REIT investors
Cons
Low liquidity

The average term of investment for the Rich Uncles REITs is 4-7 years. Therefore, your funds will be tied up for this length of time.

Newish company

As Rich Uncles is still in its infancy, there likely will be some teething problems that may push away potential investors. There is not much of a historical track record that can be relied upon.
Our REITs are required to have audited financials and to pay out at least 90% of their income in the form of Shareholder dividends.
Where Rich Uncles Stands Above Competition
Rich Uncles now has a REIT that only requires $5 for an investor to get started. This is by far the lowest minimum required investment in the sector. This means that any type of investor can get started in real estate investing without having to put in significant sums of money. They can test the waters and learn the ropes for a minimal investment.
They also do not charge any brokerage fees which means that you will be getting more bang for your buck. Another key aspect of the Rich Uncles offering is that they get very selective when it comes to tenants. They also only buy properties with a 50% or greater cash payment. Therefore, the default risk is significantly lower.
Where Rich Uncles Falls Short
There are lengthy investment terms which means that you are committing your funds for the long haul. These products are not tradable, so you cannot sell your investments to other investors.
Unlike other forms of real estate investing, with Rich Uncles you have no choice as to the types of properties you will be investing your money into. You can only decide which type of REIT you will be putting your money into. This is between student housing or national housing options.
As a new company, there will likely be some teething problems and a lot of investors may not want to put their money into a platform that does not have much of an established track record.
Fees & Features
Currently, Rich Uncles does not charge any broker/dealer fees or commissions. The company claims to invest about 97% of the funds, with the remainder covering a variety of costs that the company incurs. There are also fees associated with the REITs themselves. There are the likes of acquisition and asset management fees that need to be considered.
One of the standout features of Rich Uncles is that you do not have to be an accredited investor to get started in real estate investing on the platform. There are also low minimum investment requirements for their REITs, which makes the barrier to entry a lot lower.
Their portfolio tends to be well diversified and they have triple net lease terms. Therefore, expenses for the likes of maintenance, insurance and property taxes are the responsibility of the tenants, rather than Rich Uncles. Therefore, a rise in these expenses will not be passed onto the investor.
Minimum Investment
Account Fees
Investment Length
Return potential
Private REIT
Offering Types
Property Types
Self-Directed IRA
Regions Served
Rich Uncles
$5
No broker/dealer fees. 3% funds fee
4-7 years
6%-7%
REITs
Student housing, offices, retail and industrial
United States
RealtyMogul
$1,000
0.3%-0.5% annually
6 months to 10 years
REITs, Individual Properties, 1031 Exchanges
United States
PeerStreet
$1,000
0.25%-1%
6 months to 36 months
6%-9%
Real Estate Loans
Residential, Corporate
United States
Fundrise
$500
0.85% annual asset management fee
4-7 years
8.7% to 12.4%
eREITs, eFunds
Commercial and residential
United States
LendingHome
$5,000
1.15%-2.6% on monthly interest
12 months
5%-10%
Bridge Loans, Platform Notes
Residential and Commercial
United States
Housers
$50
10% fee on profits
12-60 months
4%-10%
Buy to let, Buy to sell, Development loans
Residential
Europe
How Does Rich Uncles Work?
When you have opened your account with Rich Uncles, you will then select which REIT you want to invest into. You can choose either the National Housing or Student Housing option. There is a $5 minimum investment required for the Student Housing option and $500 for the National Housing option. Depending on how the properties that make up the REIT you selected performs in terms of rental income, you will receive monthly dividends.

By law, a REIT has to pay out at least 90% of total rental income to the shareholders. All of your investing with Rich Uncles is passive, so you don't have to choose the properties or tenants, everything is already done for you. You simply decide how much you want to invest in the given REIT.
You are usually in it for the long haul when making an investment as you effectively become a part owner of the commercial properties that are part of the REIT. Usually, it will take 4-7 years for the investor capital cap to be reached. When this happens, there will be a liquidation of the fund and investment gains will then be distributed.
Rich Uncles will determine when this liquidation happens. On that date, you will get the value of your shares returned to you, as well as any profits deriving from the sales of the portfolio's properties.
Portfolio Details
There are three different REITs that you can choose from with Rich Uncles.
BRIX REIT
This is the student housing option that has a minimum required investment of just $5. It is focusing on student accommodation and multifamily real estate that is purpose built across the United States. The estimated annualized dividend for this REIT is 6%.
NNN REIT
This REIT has an annualized dividend estimation of 7% and its main focus is on single-tenant offices, retail and industrial properties that deal with tenants who are nationally recognized corporations. There is a minimum required investment of $500.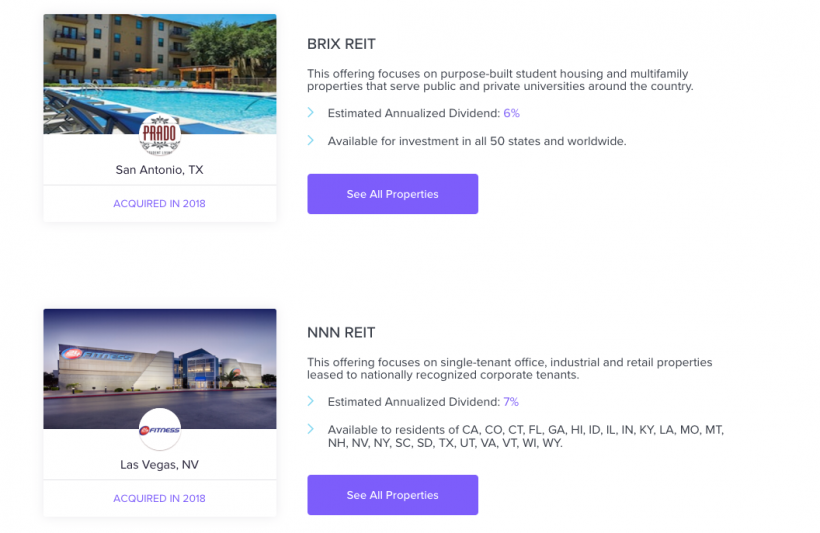 REIT I
Currently, this REIT is not open to new investors. It focuses on single-tenant offices, retail and industrial properties, dealing with corporate tenants that are recognized internationally. It has an estimated annualized dividend of 7.5%.
Products
There are a number of different accounts to choose from with Rich Uncles, including Roth IRA, traditional IRA and regular investment accounts.
There is often a promotion run by Rich Uncles for retirement accounts. When you invest at least $5,000 through the self directed IRA, you will get a $100 bonus into an investment account. You will also have every marginal dollar that is contributed into the IRA account matched by 2% by Rich Uncles.
Deposits & Withdrawals
To add funds to a Rich Uncles account, you can make a standard bank transfer that will take a number of working days to process. Otherwise, you can pay a small fee to have funds processed almost immediately through a wire transfer. When you have received your monthly dividends, you will have the ability to withdraw the funds using the same methods. There are charges for trying to exit out of your investment before the end of its term.

Customer Support
If you need to get in touch with a member of the Rich Uncles customer support team, you can give them a phone call or send them an email. You can also visit their offices in Costa Mesa, California or send them correspondence by post.
They also have a FAQ section which answers the most basic questions, but it is not very comprehensive. Usually, you can expect an email response within 24 hours.
Security & Reliability
Rich Uncles try to ensure that the security of your personal and financial data is kept safe and secure. However, they do mention in their privacy policy: We take reasonable measures to protect the information you provide to us against loss, theft, unauthorized use, disclosure or modification. However, we cannot guarantee or warrant the security of any information you transmit to us and you do so at your own risk.
This of course sounds slightly concerning to those people who put a lot of emphasis into the privacy for their information.
What Rich Uncles Is Best For
Diversification as there are two different REITs to choose from, both of which have low minimum required investments. Therefore, you can invest as little as $5 in one of the REITs and $500 in the other. The properties within these REITs are from all across the United States
Investors looking for low fees as there is no commission or fee for the broker/dealer transaction. There are some fees included in the REITs, as well as a 3% funds fee to cover other costs.
Low minimum investors as you only need to invest $5 for the student housing REIT or $500 for the normal REIT. Usually, you will have to invest a minimum of $1,000 in other REITs.
New real estate investors due to the low minimums. This allows you to get experience in REIT investing without having to invest a lot of money. You can afford to make some mistakes and see how the system works without losing significant sums.