InvestorGreg upholds the most rigorous standards for testing of brokers. We may receive compensation for advertising or for links that feature inside our reviews. Learn more about our
methodology and review process
.
Updated January 29th, 2020
Introduction
Realty Mogul aims to provide their clients with innovative ways to invest in real estate. It is a crowd funding platform whereby investors can pool their money together in order to create strong investments in real estate. They have been in business since 2013.
This is through real estate investment trusts (REITs) and through individual properties. They try to offer a personal experience and provide investment opportunities in a data driven manner.
Their main target real estate opportunities are those that are well leased or have leases in hand. They are not interested in investments that do not offer any cash flow, whether it is raw land purchasing or ground up construction.
Over the years, Realty Moguls has built relationships with partners in the real estate world that are trusted and have the results to back up their knowledge. To date, Realty Mogul has financed more than $2 billion worth of property and they have more than 175,000 members.
As part of this Realty Mogul review, we will look at its features and advantages, as well as its drawbacks.
Pros
Pre-vetting

Realty Mogul will conduct the due diligence on your behalf when it comes to real estate investment opportunities. This will save you a lot of time by avoiding the standard grunt work in the beginning of the investment process.

No credit checks

As Realty Mogul accepts cash investments and does not deal on credit, there is no need for any credit checks. This means that investors who may have historical credit issues can still invest in real estate.

No capital calls

Certain types of crowd funding real estate platforms ask you to sometimes contribute more funds. This is not the case with Realty Mogul unless a single investor is responsible for foreclosure costs in the case of a default.

Cash flow emphasis

Realty Mogul looks for real estate investments that provide regular cash flow. They disregard those properties which are not profitable and look to issue regular cash flow distributions to investors.
Cons
Young platform

Realty Mogul has only been in operation since 2013. Therefore, there are no historical performance records to look at during a time of property crises or downturn. This is why a lot of investors will likely tread carefully when allocating money to invest through this platform.

Strict investor requirement

If you are not looking at investing in REITs, then you will have to be an accredited investor to be an investor in real estate. This is an extra hurdle for those looking to make these types of investments.
Realty Mogul is breaking down barriers by connecting investors with major real estate projects.
Where RealtyMogul Stands Above Competition
One of the main differentiating factors when it comes to Realty Mogul is that there will not be any additional capital calls. The only exception to this is if an individual investor has to pay foreclosure costs in the case of default.
There is also a wide range of different types of investments you can make depending on your needs. You can stick to REITs which you can liquidate on the secondary market if needed or you can invest into actual real estate.
All of the due diligence grunt work is also done for you through the Realty Mogul platform, which will save you a lot of time and energy.
Where RealtyMogul Falls Short
There is a requirement in place which means that if you want to invest in actual real estate with the Realty Mogul platform then you will need to be an accredited investor. Therefore, this is a barrier to entry for many when it comes to this platform.
To be an accredited investor, you need to have annual income of $200,000 or greater ($300,000 for couples) or you need to have a net worth in excess of $1 million. You cannot include your personal residence value as part of your net worth. Just like with all property investment platforms, you will also have your money tied up for a significant amount of time.
Fees & Features
As part of Realty Mogul, the smallest investment that you are able to make is $1,000. In terms of account fees, these will range from between 0.3% and 0.5% on an annual basis. The length of your investment can range anywhere from six months up to 10 years.
There are many different features associated with Realty Mogul. There is a wide variety of investment opportunities for you to choose from. It is very quick and easy to add your funds to the platform and your investment will have monitoring on a 24/7 basis.
Documents can be executed online and there will be either monthly or quarterly distributions of cash flow. Usually, there are no capital calls, so you will usually be fine with your initial investment amount.
All of the listed investment opportunities will already have been vetted to ensure that each of these opportunities is viable for investment. You also have the ability to make investments in equity and loan opportunities.
Minimum Investment
Account Fees
Investment Length
Accredited Investor
Offering Types
Secondary Market
Self-Directed IRA
1031 Exchange
Regions Served
RealtyMogul
$1,000
0.3%-0.5% annually
6 months to 10 years
REITs, Individual Properties, 1031 Exchanges
United States
PeerStreet
$1,000
0.25%-1%
6 months to 36 months
Real Estate Loans
United States
Rich Uncles
$5
No broker/dealer fees. 3% funds fee
4-7 years
REITs
United States
Fundrise
$500
0.85% annual asset management fee
4-7 years
eREITs, eFunds
United States
LendingHome
$5,000
1.15%-2.6% on monthly interest
12 months
Bridge Loans, Platform Notes
United States
Housers
$50
10% fee on profits
12-60 months
Buy to let, Buy to sell, Development loans
Europe
How Does RealtyMogul Work?
Through Realty Mogul, investors are able to choose from many different types of investments. This includes REITs and actual real estate, such as medical buildings, hospitality buildings, self-storage, industrial sites, office buildings and dwelling for multiple families.
In order to invest, usually it will be through buying shares in the LLC of Realty Mogul which will then use these funds to invest in a new LLC or partnership company that will then be the holders of the actual property titles. This means that overheads are going to be minimized for those putting up the investment and there will also be the ability to get better deals.
You will also have very streamlined reporting for platform distributions. The manager of the individual Realty Mogul LLCs is a subsidiary of Realty Mogul known as RM Manager LLC. The length of your investments depend on whether you are looking at equity or debt investment opportunities.
For loan investments, the length of it will usually be between 6 and 12 months. For equity investments, the duration will be more like between 3 and 10 years. The equity investments usually have monthly distributions of the cash flows, with the loan investments having quarterly distributions. Of course, every investment is going to be somewhat different, so you still need to look for yourself.
Portfolio Details
Online REITs (or eREITs) are much more accessible than private REITs and have low minimum investment requirements. They also are open to non-accredited investors.
Fees are generally lower when compared to traditional REITs because the transaction is directly with the consumer. As they are not tradable, eREITs will be more stable usually than those which are traded on the markets.
There are two eREITs to choose from with Realty Mogul:
MogulREIT I Real Estate Investment Trust
This is a public REIT that is non-tradable and you have to make an investment of at least $1,000. There is an 8% annualized distribution rate with monthly distribution. The main aim is preserving capital while achieving regular distributions of cash. The 8% is net of the 1% annual management fee and the servicing fee of 0.5%.
MogulREIT II Real Estate Investment Trust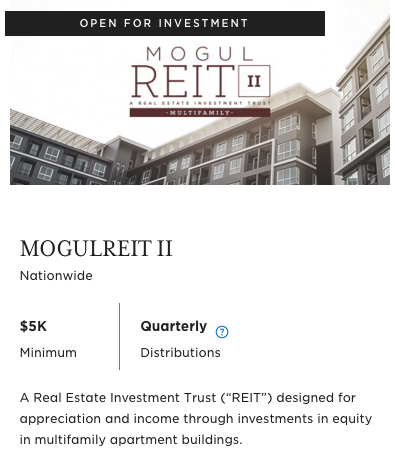 This REIT aims for the appreciation of capital over a longer time period. It also has regular distributes of cash. Its main focus is on apartment buildings. This eREIT has a minimum required investment of $5,000.
There is an annualized distribution rate of 4.5% which pays each quarter. This rate is net of the 1.25% annual management fee. This REIT only began at the start of 2018. Therefore, this is not much of a track record available.
Products
There are three main types of portfolios that you can put together with Realty Mogul.
MogulREIT I & II Real Estate Investment Trusts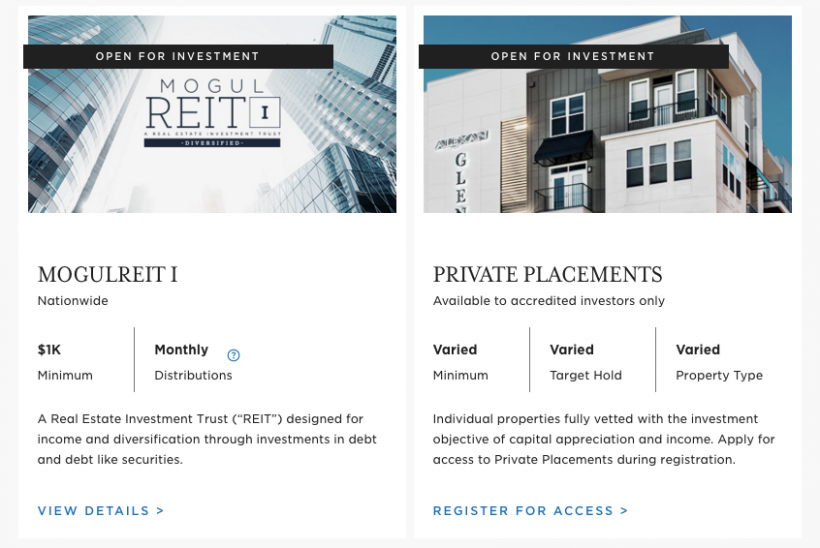 These are public eREITs that are non-tradable. There is a minimum required investment of $1,000 for non-retirement accounts and $5,000 on the retirement accounts for MogulREIT I. For MogulREIT II, the minimum investment is $5,000. Non-accredited investors can put money into these eREITs.
Private Placements
While the two eREITs are available for all types of investor, the private placements are open only to accredited investors. Investments will usually have to be at least $25,000 in size and generally will have an investment period of three to seven years.
There are 1031 exchanges as part of this portfolio. This means that capital gains from a property sale can be deferred and invested straight into a different property. There are monthly distributions.
Deposits & Withdrawals
In order to make an investment with Realty Mogul, the minimum investment you can make is $1,000. For sums of $100,000 or less, you are able to make a normal ACH transfer using your bank account.
If you are planning to make an investment worth more than $100,000 then you will be required to utilize a wire transfer instead. For every individual investment that you make, you will be given a unique account number which ensures that you are able to direct the funds straight into your defined investment. Your regular cash flow distributions will usually go to the same bank account that you used to deposit the funds for investment.
Customer Support
There is a very comprehensive FAQ section as part of the Realty Mogul platform which allows you to get the solutions for most of the questions or queries that you may have. You can also ring various numbers depending on your question.
There are phone numbers and email addresses for general enquiries, for their investor relations team and for commercial real estate. The headquarters are based in Santa Monica, Los Angeles, United States. Therefore, you can visit them in if you are in the area.
Security & Reliability

Just like with most types of investments, there is no guarantee of return. Of course, when you are investing into physical assets in the United States that have been pre-vetted, you are increasing your chances of a return.
In the case of the bankruptcy of Realty Mogul, your investments will likely be kept safe because they will be guarded under separate LLC entities that are independent from Realty Mogul.
There are also independent bank accounts for their REIT offerings, as well as separate accounts for each of their other LLCs. Therefor,me in the case of bankruptcy these funds will be kept safe from liquidators.
What RealtyMogul Is Best For
In particular, Realty Mogul is best for:
Accredited investors who are looking for a wide selection of different property types to choose from. An advantage for them are the 1031 exchanges which mean that they can defer capital gains on the sale of a property by putting these funds straight into a new property.
Investors looking for diversification in their investment portfolios. They may want to have a portion of their portfolio in real estate, which can easily be done through the eREITs by all types of investors for a minimal investment.
Investors looking for low fees. For REITs that are traded on the markets, you pay significantly higher fees. This is down to the distribution channel. The eREITs do not have the same labour intensive steps that are seen with tradable REITs. Therefore, fees on eREITs can be a third of what they are for traditional REITs.
Investors looking for low minimums. You can invest as little as $1,000 in both of the eREITS that are on offer at Realty Mogul. This is ideal for those looking to dip their toes in real estate investing without having to commit a lot of capital.
New real estate investors due to the low minimums and easy to use platform. As the investments are fully managed as if they were in a mutual fund, you can take a hands-off approach. This takes away a lot of the perceived obstacles when it comes to real estate investing.