InvestorGreg upholds the most rigorous standards for testing of brokers. We may receive compensation for advertising or for links that feature inside our reviews. Learn more about our
methodology and review process
.
Updated February 27th, 2020
Introduction
PeerStreet acts as a marketplace in which accredited investors are able to make investments in real estate loans that are private and of a high quality. They have been in business since 2013 and they have raised over $50m in funding to date. Some of their notable venture partners include Andreessen Horowitz and Felicis Ventures.
Access is given to asset classes that previously were very hard to access. They deal with the likes of institutions, funds and accredited investors for the most part.
These are debt investments mainly for residential real estate. Some may call this type of real estate investing as being hard money loans or fix and flip loans. PeerStreet buys loans from different third parties that have undergone vetting.
PeerStreet will then sell them to their users who pool their money together. Usually, the loans will have terms of between 6 and 36 months. For the most part, they will have max loan to value ratios of 75%.
Pros
Low minimum investment

You can make investments of as little as $1,000 in these real estate loans. Therefore, you can easily diversify your investments across a variety of different parameters. Usually, most competitors have a minimum of about $10,000 when making an investment.

Loan lender and borrower well vetted

To ensure that the loans PeerStreet is buying are viable investments, they undergo stringent testing to ensure that both the lender of these funds is credible and choose its lenders properly, as well as ensuring that there is a high probability of the borrower meeting their repayments.

Short duration loans

Most of the loans on offer have a life length of between 6 and 24 months. Therefore, you can earn your monthly interest and then receive your lump sum investment back in a relatively short space of time in comparison to many other real estate investments.

Investor flexibility

With PeerStreet you can set up automatic investing depending on your favored criteria. Alternatively, you can take a hands on approach and thoroughly research and look into individual investments before putting your money into them.
Cons
You have to be an accredited investor

Only accredited investors are able to use this platform to invest in these loans. Therefore, non-accredited investors looking to put some money into real estate will have to look elsewhere

Higher fees

As PeerStreet is acting as a middle man to obtain this loan investment opportunity, they take a larger cut usually than a lot of other real estate investing platforms. This fee is usually around 1%.
We're applying lessons learned at Google to a space that's been almost untouched by technology. And it just so happens to be one of the world's largest financial markets. The value we can unlock for the entire ecosystem of investors, borrowers and lenders is staggering.
Where PeerStreet Stands Above Competition
Unlike their competitors, the model that PeerStreet uses focuses on investing in real estate loans rather than making direct investment in real estate. PeerStreet carefully vets the third parties from which they are buying these loans from to ensure that they will be able to meet their repayment requirements.
They will also look at the lenders to ensure that they will be acting responsibly when it comes to the underwriting process. Therefore, this eliminates a lot of the risk associated with investing in real estate. It is a very hands-off approach for the investor.
You are able to invest as little as $1,000 in these investments, which is significantly lower than most of their competitors. For investments of this type, usually you will see minimum investments required of about $10,000. When a loan has fully been invested in through PeerStreet, you will then start earning your interest on the investment each month.
Many of their competitors only pay out interest on a quarterly basis. PeerStreet also offers great diversification as you can spread your investments over different types of loans rather than investing significant sums in just one or two loans.
Where PeerStreet Falls Short
As PeerStreet only deals with accredited investors, this will rule out a lot of individual investors who are looking to have a portion of their portfolio in real estate.
To be an accredited investor, you will need to have a net worth of at least $1 million (not including the value of your principal place of residence) or you need to be making $200,000 or more each year.
For those investors who prefer a more hands on approach, they will be at bit of a disadvantage when it comes to using PeerStreet.
This is because the new loans that become available on the platform will be given first preference to the users who have automated systems in place to invest. Therefore, often times some of the newer and juicier loans will be largely invested in before the more hands on investors get a chance to get their own piece of the action.
Fees & Features
For the most part, the fees seen on PeerStreet are a bit higher than the industry standards. They are acting as a middle man in obtaining the loan and offering it to investors, so they charge a service fee for doing so.
Those other platforms which will originate the loans for themselves will not be charging this servicing fee to their users. The fee from PeerStreet will generally range from 0.25% to 1%, but for most cases it will be 1%. This fee will be disclosed before you have made your investment in a given loan.
One of the positive aspects you can look at when choosing between different loan investments is viewing who the originator of the loan is and how much money they have invested themselves.
There may be occasional additional fees in certain circumstances. For example, if it is a seasoned loan which has a lower risk, there may need to be an extra premium paid to the originator.
Some of the standout features of using PeerStreet is their ability to diversify your investment across a wide range of different parameters. You can invest as little as $1,000 in each of these loans.
Another standout feature is the relatively short durations of these loans. For the most part, you will be looking at loans which have a life period of between 6 and 24 months. This means that your money is not going to be tied up for many years.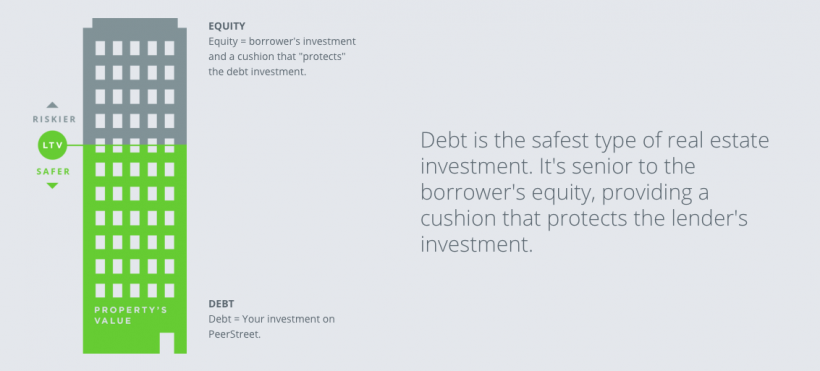 For most loans, in the case of a foreclosure, PeerStreet will be the first lien, meaning that they would be the first paid out in the case of liquidation. Of course, this does not guarantee you will have your investment returned in this case.
Minimum Investment
Account Fees
Investment Length
Accredited Investor
Return potential
Offering Types
Property Types
Self-Directed IRA
Regions Served
PeerStreet
$1,000
0.25%-1%
6 months to 36 months
6%-9%
Real Estate Loans
Residential, Corporate
United States
RealtyMogul
$1,000
0.3%-0.5% annually
6 months to 10 years
REITs, Individual Properties, 1031 Exchanges
United States
Rich Uncles
$5
No broker/dealer fees. 3% funds fee
4-7 years
6%-7%
REITs
Student housing, offices, retail and industrial
United States
Fundrise
$500
0.85% annual asset management fee
4-7 years
8.7% to 12.4%
eREITs, eFunds
Commercial and residential
United States
LendingHome
$5,000
1.15%-2.6% on monthly interest
12 months
5%-10%
Bridge Loans, Platform Notes
Residential and Commercial
United States
Housers
$50
10% fee on profits
12-60 months
4%-10%
Buy to let, Buy to sell, Development loans
Residential
Europe
How Does PeerStreet Work?
PeerStreet acts as a middleman between the originator of a loan and the investors on the PeerStreet platform. They comprehensively vet both the lender and the borrower of the loan to ensure that the risk profile is satisfying enough to make an investment.
They do not want there to be a significant risk that one of these parties will default on their obligations. You want to ensure that the lender has a strong history of lending money and that they choose lenders that are not at risk of not making repayments of the loan.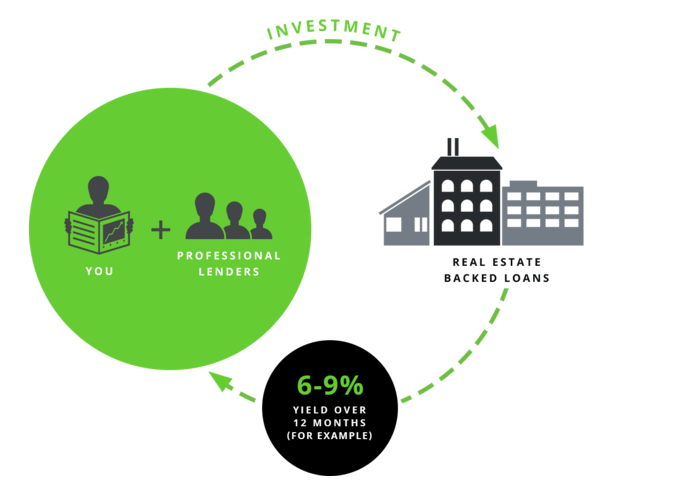 Once a loan passes the vetting process, they will be made available on their platforms for investors. You will be buying the loan from the party that originally lent the money. Therefore, you are not buying the property itself.
You can invest as little as $1,000 in a given loan and the loan closes once it has received 100% investment from users. There will then be interest earned on this closed loan, accruing each month.
Portfolio Details
There are many different types of loans that PeerStreet deals with, but for the most part they are residential in nature. Usually the term length will be between 6 and 36 months and they look for loans that have loan to value ratios that are less than 75%.
The usual loans looked at will be: buy to rent loans, bridge loans, multifamily loans for property and small real estate loans for commercial property. PeerStreet saw that on average, there is a return of between 6% and 9% for those investments in loans that are for a short term and have a moderate loan to value ratio (which means a moderate level of risk).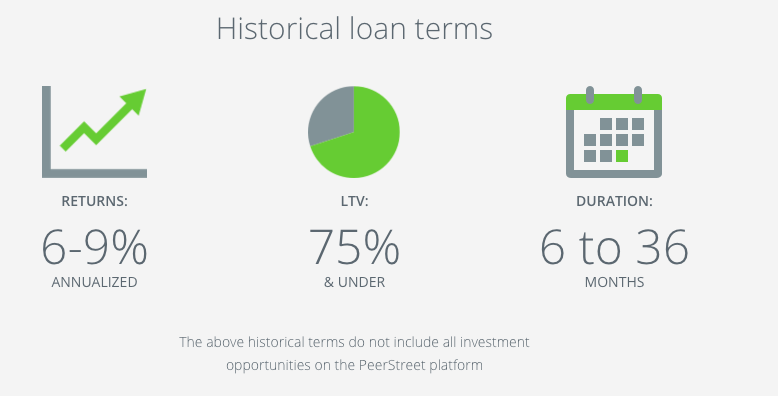 As you make debt investments rather than equity investments, you will be getting interest payments and your capital sum upon completion of the loan. You will not get any stake in the actual real estate.
Products
There are a number of different account types you can choose from when it comes to PeerStreet. All of the different accounts are self-directed. You can use taxable accounts or if you prefer, you can use Roth IRA or traditional IRA accounts.
As part of your account, you have the ability to decide whether you want to make automatic investments or not. If you prefer a more hands off approach to investing, you can use the Auto Invest feature.
You will be able to enter specific details as to the criteria you want your investment to fit into and whenever a loan appears on PeerStreet that ticks these boxes, you will have funds automatically invested. For those who prefer a more hands on approach, you can conduct more thorough research and manually invest in a given loan.
Deposits & Withdrawals
In order to deposit funds unto a PeerStreet account, you do so by a standard ACH bank transfer. This usually will process within 4 working days. You can also use a wire transfer to have the funds added almost straight away. There will usually be a small fee associated with making a wire transfer.
Interest payments get distributed on the 1st and 15th day every month. If this is a weekend day, it will process on the next working day. You can then choose to reinvest these funds on the platform or make a withdrawal through an ACH bank transfer or a wire transfer.
Customer Support
There is a comprehensive FAQ section on PeerStreet which will answer a lot of the questions that you may have.
Otherwise, you can send them an email, ring them by telephone or send them a message through their website chat feature. This is not a live chat, just an easy way to send them a correspondence. Generally, you will get a reply within 24 hours to your query if you send them a message.
Security & Reliability
There are a number of different security features PeerStreet utilizes to keep their platform safe. Every interaction that you will have with their platform uses an encrypted and secure connection thanks to TLS/SSL. This is the security technology that is standard across the world of finance.
All private and personal data is kept in storage utilizing the most up to date public key encryption technology. Their data centre is under the power of Amazon Web Services. This means that the risk level is constantly monitored and has regular assessments to make sure that all of the necessary compliance requirements are being met. There are regular tests to ensure that the privacy of your data is maintained.
As all of the investor accounts are kept in Investor Trust Accounts at City National Bank, deposits of up to $250,000 are guaranteed. Of course, just like with any investments, there are no guarantees.
What PeerStreet Is Best For
In particular, PeerStreet is best for:
Accredited investors as they have access to many different real estate loans to put their money into. They will be receiving monthly interest payments on their investment.
Diversification as there is such a low minimum required investment of $1,000. This means that you can easily spread your funds across loans with different parameters, such as by region, real estate type etc.
Hands-on investors as they can thoroughly look into each loan to see which best suits their needs. There is a lot of information provided on the given loan by PeerStreet, so you can see who the lender is and how much money they have invested themselves.
New real estate investors as they can dip their toes in this real estate loan investing by putting in as little as $1,000. This means that they can play around a bit and learn the ins and outs of this field of investing without losing significant funds.