InvestorGreg upholds the most rigorous standards for testing of brokers. We may receive compensation for advertising or for links that feature inside our reviews. Learn more about our
methodology and review process
.
Updated January 29th, 2020
Introduction
Fundrise is an online platform for real estate investing that provides opportunities for the average joe to invest in both commercial and residential property. This is done thanks to crowd funding.
Unlike a lot of similar platforms, you do not need to be an accredited investor in order to put your funds to work with Fundrise for the most part. Their offering mainly revolves around real estate investment trusts (REITs).
The company was started in 2010 and is one of the forerunners in the space of online crowd funding for real estate.
It was in 2015 that they caused a stir in the sector due to their very first eREIT. This is a REIT that is available online to all types of investors. Fundrise is committed to giving equal opportunity to investors and they are now one of the most established companies of their kind in the space today.
Pros
Variety of plans

With the Fundrise offering, there are four different broad portfolios with different attributes. There are also seven different REITs and three different eFunds.

Low barrier to entry

Unlike a lot of other real estate investing platforms out there today, you can get started with Fundrise for as little as $500. This is ideal for beginner investors to learn the ropes.

90-day money back guarantee

This is almost unheard of in the investment space. If you are not happy with the investment you have made, you can get your original investment amount returned to you within the first 90 days of having made this investment.

Hands-off investing

You can set up the investing criteria to your own needs and wants and let the platform do the rest. This means that you don't have to be constantly busy with managing your investment, everything else is done for you.
Cons
Long term investments

Most of the investments you will be making with Fundrise will have terms of 4 to 7 years. Therefore, unless you want to incur early withdrawal penalties, you are in it for the foreseeable future.

Hidden fees

While the annual asset management fee is quite low, there are some hidden fees that you may need to factor in when you are investing in the Fundrise eREITs.
Today, there are more than 500,000 members of Fundrise, and we've invested in nearly $2 billion worth of real estate across the country.
Where Fundrise Stands Above Competition
As a pioneer in this space, Fundrise was very innovative and brought a lot of exciting ideas to the sector that are now the norm.
They have minimum required investments of just $500 for their starter portfolio, which is lower than a lot of their competitors. This allows all kinds of investors to dip their toes in the real estate space by investing what they can afford.
The Fundrise platform is extremely easy to use and doe snot overcomplicate the process of investing your funds. What you see is what you get. They even offer users a 90 day money back guarantee if you are not happy with the investment that you have made.
Another major thing going for Fundrise is their relatively low fees. They only charge an annual asset management fee of 0.85%.
Where Fundrise Falls Short
As the eREITs that are on offer with Fundrise are not publicly traded, there is no secondary market for you to sell your shares before the investment period has been brought to a close. However, there are opportunities each quarter for you to redeem some of your shares depending on the specific circumstances.
There will be penalties in these cases that need to be considered. There are discounts on your shares that Fundrise will keep depending on the length of time you have kept your investment.
For the first 90 days there is no discount, over 90 days and less than three years there is a 3% discount, a 2% discount is in place for shares held between three and four years. Finally, if you hold the shares for five years or more, there is no discount in place.
Fees & Features
In terms of their flat fees, Fundrise is very competitive with an annual asset management fee of just 0.85%. However, like a lot of online investing platforms, there are usually some hidden costs that you need to consider. This includes the likes of development fees and disposition fees upon the sale of a property.
One of the key features of the Fundrise offering is the 90 day money back guarantee. This is very rare in the investment world as it allows you to get your original investment back to the same amount if you do so within 90 days.
They also provide plenty of access for average investors to commercial real estate deals, something which is usually reserved for significantly wealthy investors and institutions.
With seven eREITs and three eFunds, there is plenty of choice for investors when using Fundrise. The historical annual return for Fundrise products ranges from 8.7% to 12.4%.

Whenever you invest money into one of these products, your funds will be going into a separate limited liability company (LLC) which will then carry out the deals. This helps to add further protection to your funds.
Minimum Investment
Account Fees
Investment Length
90-day money-back
Return potential
Offering Types
Property Types
Self-Directed IRA
Regions Served
Fundrise
$500
0.85% annual asset management fee
4-7 years
8.7% to 12.4%
eREITs, eFunds
Commercial and residential
United States
RealtyMogul
$1,000
0.3%-0.5% annually
6 months to 10 years
REITs, Individual Properties, 1031 Exchanges
United States
PeerStreet
$1,000
0.25%-1%
6 months to 36 months
6%-9%
Real Estate Loans
Residential, Corporate
United States
Rich Uncles
$5
No broker/dealer fees. 3% funds fee
4-7 years
6%-7%
REITs
Student housing, offices, retail and industrial
United States
LendingHome
$5,000
1.15%-2.6% on monthly interest
12 months
5%-10%
Bridge Loans, Platform Notes
Residential and Commercial
United States
Housers
$50
10% fee on profits
12-60 months
4%-10%
Buy to let, Buy to sell, Development loans
Residential
Europe
How Does Fundrise Work?
The process of setting up an account with Fundrise and investing your funds is a very quick one. There are four Fundrise portfolios that you will be choosing from.
These are the start portfolio, the supplemental income plan, the long term growth plan or the balanced investing plan. There are then further combinations to choose from when you have selected one of these portfolios.
When you have chosen, your money will go towards a combination of eFunds and eREITs that are made up of private real estate in the United States. You can decide the criteria of how your funds are allocated.
There are two ways in which you are going to benefit financially with Fundrise. This is through your dividend distributions each quarter and when the value of the asset appreciates before the ending of the investment term.
Portfolio Details
As part of the various plans, there is a total of seven eREITs on offer and three eFunds.
Income eREITs I & II are focusing on commercial property debt investments.
Growth eREITs I & II are focusing on the appreciation of commercial properties in the long term.
West Coast eREIT is focusing on West Coast equity and debt investments
East Coast eREIT is focusing on East Coast equity and debt investments
Heartland Coast eREIT is focusing on Midwest equity and debt investments
The three eFunds look to make investments in developing and selling of residential property usually in major cities in the US. They are trying to take advantage of the current demand by millennials for urban housing, especially given the current supply issues. Two of these eFunds focus on Los Angeles and Washington DC, with the final eFunds taking a nationwide approach.
Products
There are four different portfolios to choose from with Fundrise. If you invest between $500 and $999.99 then you will be looking at the Starter Portfolio. This is a diversified mix of eFunds and eREITs.
There will be dividends paid out every quarter and your shares could appreciate in value over time. When you make a $1,000 or greater investment, then you will be dealing with the core portfolio. There are three different plans as part of this offering.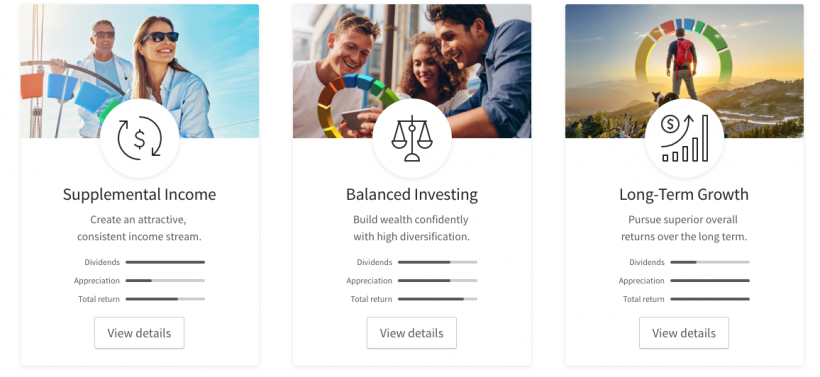 Supplemental Income
This focuses on providing a steady stream of income and placing more of an emphasis on dividends.
Long-Term Growth
This plan tries to focus on long-term growth rather than making short-term gains.
Balanced Investing
This is a diversified plan which aims to build wealth steadily.
Deposits & Withdrawals
For all investments that are less than $25,000 in size, you have to use an ACH transfer to add funds to your Fundrise account. You can pay by wire transfer for amounts greater than $25,000. You are not able to use debit cards, credit cards or transfers from savings accounts.
When it comes to withdrawing your dividend distributions or your initial investments, you will need to have a bank account linked to your Fundrise account. This will allow you to quickly take out these funds when you need to.
Customer Support
At Fundrise. They have a very clear and comprehensive FAQ section that will answer most of the questions that you may have for the customer support team. Otherwise, you can send them an email. Usually, they will respond to your query within 24 hours.
Security & Reliability
To keep the personal information and financial information of given users safe, Fundrise uses bank-level security. All information from investors is kept encrypted using an AES bit
Bit symmetric key, which is what most of the big commercial banks use today.
Every connection the investor has with the Fundrise platform is through HTTPS encryption, along with Transport Layer Security (TLS). The data and applications of Fundrise are located in numerous secure physical data centers. The hosting company for the company is Amazon Web Services who comply with many different security regulatory bodies.
What Fundrise Is Best For
Passive investors as you can leave the entire process of finding the right properties, renting to the right people etc to Fundrise. You simply put your funds in a plan and let the platform do the rest for you.
Investors looking for diversification. With so many different types of portfolios and individual plans, you can easily get involved in real estate investing and diversify your investment portfolio.
Goal orientated investors as you can see their criteria for your investment needs and goals. Your portfolio will then be tweaked according to these guidelines.
New real estate investors as you can start with the starter portfolio by making as small of a deposit as $500. This allows you to learn the ropes of real estate investing without sacrificing too much.