InvestorGreg upholds the most rigorous standards for testing of brokers. We may receive compensation for advertising or for links that feature inside our reviews. Learn more about our
methodology and review process
.
Updated January 29th, 2020
Introduction
CrowdStreet is one of the leading online platforms for commercial real estate investments. They have 170,000 users on board and provide them with access to many different types of real estate investments.
They also have relationships with over 260 major commercial real estate developers who raise capital through the CrowdStreet platform.
The company's headquarters is in Portland, Oregon and they have many different offices throughout the United States. They have been in operation since 2014 and they are constantly looking at innovative ways in which they can take their offering to the next level.
Pros
No fees

CrowdStreet does not charge any fees on investors.

Variety of investment types

You can choose to actively or passively manage your real estate investments with CrowdStreet

Great deals on offer

CrowdStreet provides some of the best real estate investment opportunities out of any online crowdfunding investment platforms.

Wealth of information

When assessing a given opportunity, you have access to all of the documents and information you could ever want.
Cons
High minimum investment

CrowdStreet used to have a minimum required investment of $25,000. While they have since lowered this to $10,000, it still is a significant sum

Zero liquidity

When you enter into an investment on CrowdStreet, you are in it for the entire duration of the investment. There is no secondary market on which you can sell your investment to another user.
At CrowdStreet we believe that markets are stronger when they are accessible, transparent, and efficient.
Where CrowdStreet Stands Above Competition
CrowdStreet stands out from a lot of their competitors as they have relationships both with major developers looking for loan financing and with investors trying to get a slice of the action.
They have quality software optimized for investment management. This allows users to get exactly what they need out of their dealing with CrowdStreet without any fuss or complication.
There is a dearth of information available to investors relating to the properties that they can invest in. This allows for much more accurate decision making. The company carefully vets all deals and they distinguish the available investments into three different categories.
This categorizes sponsors into emerging, seasoned or tenured cases. Finally, there are no fees that investors have to pay as they are taken care of by the sponsors.
Where CrowdStreet Falls Short
There is a high barrier to entry for investors looking to get in on the action with CrowdStreet. This is because there is a high minimum required investment of $10,000.
This previously was $25,000 but they decided to drop this down to make it more accessible to users. For the majority of similar platforms, the minimum required investment is usually no more than $5,000. The other downside to the CrowdStreet platform is that there is no liquidity for your investments.
They do not currently have a secondary market in which you can sell off your investments to other users. You also have to be an accredited investor.
Fees & Features
There are currently no fees to consider when you are using the CrowdStreet platform as these are taken care of by the sponsors. However, certain deals will have some charges depending on the given sponsor.
CrowdStreet specializes in commercial real estate and they have a very diverse selection within this sector. This includes self-storage, hotels, industrial, retail and multifamily properties.
They also have multi-property fund as well a single property investments. These are debt and equity deals. With CrowdStreet, there is a massive amount of transparency with the properties you will be investing in.
This is because you have access to all of the necessary documents and information on a project before you have to put any money down. These investments have also previously been screened by the team at CrowdStreet, which adds an extra layer of security.
Minimum Investment
Account Fees
Investment Length
Accredited Investor
Return potential
Offering Types
Property Types
Regions Served
CrowdStreet
$10,000
Only small fees overing legal costs etc
36-360 months
9.6% annual cash yield average
Debt, equity, preferred equity
Commercial, residential, retail, industrial
United States
RealtyMogul
$1,000
0.3%-0.5% annually
6 months to 10 years
REITs, Individual Properties, 1031 Exchanges
United States
PeerStreet
$1,000
0.25%-1%
6 months to 36 months
6%-9%
Real Estate Loans
Residential, Corporate
United States
Rich Uncles
$5
No broker/dealer fees. 3% funds fee
4-7 years
6%-7%
REITs
Student housing, offices, retail and industrial
United States
Fundrise
$500
0.85% annual asset management fee
4-7 years
8.7% to 12.4%
eREITs, eFunds
Commercial and residential
United States
LendingHome
$5,000
1.15%-2.6% on monthly interest
12 months
5%-10%
Bridge Loans, Platform Notes
Residential and Commercial
United States
How Does CrowdStreet Work?
CrowdStreet obtains deals from 3rd party sponsors. When they secure a deal, it will then be made available to investors on the CrowdStreet platform.
Investors are able to directly communicate with the sponsor. This is opposed to similar platforms which do not allow for direct contact. Therefore, the investor can get all queries answered a lot quicker than they otherwise could.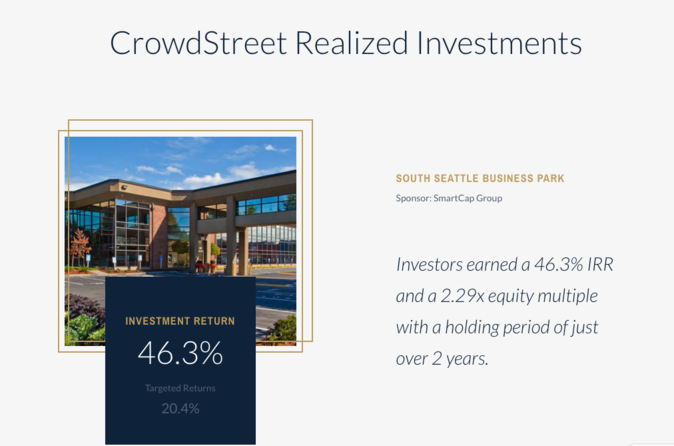 If there are any issues that arise, they can go straight to the sponsor also to iron them out. When an investor has identified a suitable investment opportunity, they then submit an investment offer. When you have gotten approval, you can then fund the offer.
You will then be able to monitor your investment process through your dashboard. You cannot exit the investment until its time period finishes as there is no secondary market currently available.
Portfolio Details
There are many different types of commercial real estate that CrowdStreet offers their users for investment. They offer everything from multi-family properties to retail, industrial, hotels and self storage facilities.
For the platform, the average target internal rate of return is 18.5%. The average annual cash yield is around 9.6%.
While the minimum investment as part of this platform is $10,000, the latest figures show that the average investment per member per offering is over $50,000.
Products
There are three main ways in which you can make investments in real estate with CrowdStreet. You are able to directly invest in opportunities yourself by browsing the marketplace for individual offerings.
You are also able to invest in a fund. This is a portfolio that has been blended together by the team at CrowdStreet and provides you with a more diversified approach to investing in real estate.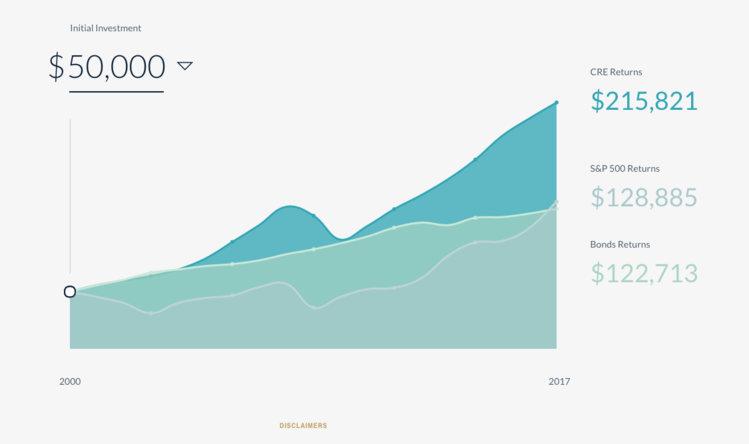 If you are an investor that prefers to take a more hands off approach then you will likely prefer to go for the managed investment option. You simply give your funds to the investment experts at CrowdStreet and they will suitably invest these funds in different real estate options.
Deposits & Withdrawals
When you have gotten approval from the platform, you are able to then deposit funds. The methods that are currently available on CrowdStreet for funding options are check, ACH bank transfers or wire transfers. The fastest of these methods is the online ACH transfer.
This is conducted by using multi-signer DocuSign and in order to get your deal funded as quickly as possible.
Customer Support
If you have a problem or query with CrowdStreet, you are able to check out their comprehensive FAQ section. If this does not provide you with your answer, you can send them correspondence by mail, ring them on the phone, email them or talk to one of the operators through the live chat function. Generally, only the simpler types of issues can be resolved through the live chat option.
Security & Reliability
CrowdStreet is one of the most trusted operators in this space. They have all of the standard encryption technology in place to protect the data of their users. It is also one of the most reliable platforms that is out there today.
They make sure that their users always have access to the most accurate information about their investments. This is updated as soon as there is any change, so investors can react quickly to changing conditions.
What CrowdStreet Is Best For
Accredited investors. CrowdStreet is only open to these investors and provides them with many different options when investing.
Big investors as the minimum required investment is $10,000, so you need to be making significant investments in order to use CrowdStreet.
Those looking for low fees. CrowdStreet do not charge any fees, which could be hefty given the average sizes of the deals. There will be some charges levied by the respective sponsor of a deal.
Investors looking for a variety of investment types. With CrowdStreet, you can choose to actively manage your investments or to have them managed for you or to invest in a real estate fund.